Ride the lightning: Is it safe to surf in a storm?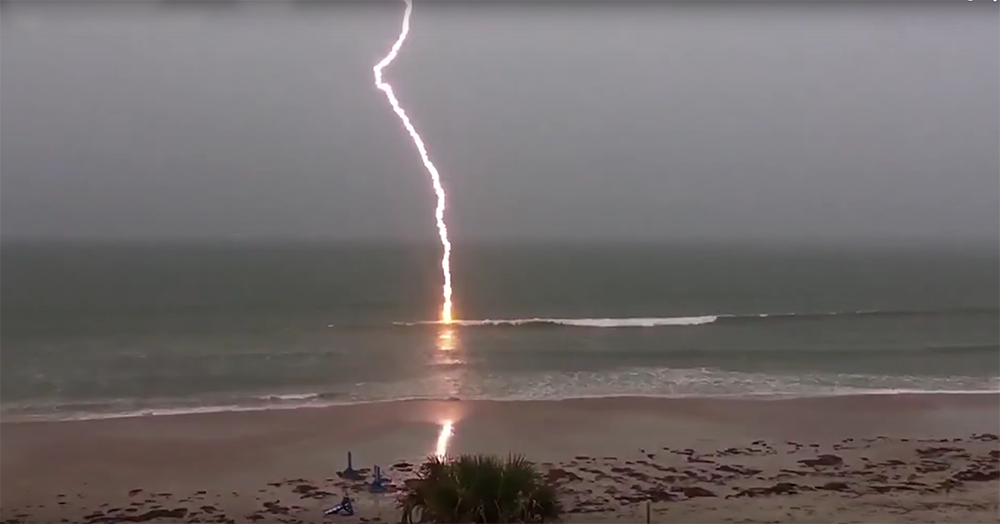 Earlier this month a German tourist was struck by lightning while surfing near Suffolk Park south of Byron Bay. He was among a small group of surfers who remained in the water when an intense thunderstorm rolled in over the region. Following the strike, the surfer was pulled from the water and taken to Tweed Hospital in a critical condition. On the weekend the surfer died of wounds suffered from the lightning strike.
On average between five and ten people die from lightning strikes in Australia each year while 100 people are injured. It's not known how many people have died while surfing though a Google search only reveals two incidents worldwide. The limited scope means that historical statistics simply aren't known.
So is it worth leaving the water when a thunderstorm forms? As the storm season approaches Swellnet seperates fact from myth surrounding lightning strikes.
The first myth is that water attracts lightning - this isn't true, water doesn't attract lightning anymore than land does. So on first impression it would seem that staying out the back would be as safe as anywhere else, however that's not necessarily the case.
While sitting on their boards, surfers become the highest point of the surrounding area which makes them vulnerable. Lightning usually seeks the highest surrounding point, therefore if it were to strike somewhere in the vicinity it would hit them first. The same principle applies to tall trees, which don't physically attract lightning either, but their height makes them a target.
Similarly, metal jewellery and trinkets don't attract lightning. Each lightning strike is a large-scale event and not influenced by a few grams of metal. Larger metal objects such as a tinny (aluminium boat)will attract a lightning channel but only if the strike is already in close proximity - in which case you would still experience an injury from being that close to begin with.
Though water conducts electricity whole bodies of water aren't charged if they're hit by lightning. Scientists still aren't sure how far current spreads through water following a strike with answers ranging from 20 to 80 metres. Anyone within that range can expect to suffer injuries depending upon their proximity.
Responding to lightning becomes an issue of probablity; during a storm lightning may strike near you or it may not, and it's most likely to strike the highest point though that's not always the case.
So should you get out of the water when a storm approaches while surfing?
Considering the high-stakes outcome the best advice is yes. However, if you can't get out of the water then lay on your board so your head isn't the highest point. If you're in a small tinny get out of it and swim a distance away (other dangers permitting). If you're in a boat with a cabin stay under the cabin and try not to touch anything metal.
In a report published last year, lightning safety specialist John S. Jensenius, said: "People who don't alter outdoor plans when thunderstorms are forecast or occurring are unnecessarily putting themselves at risk of being struck by lightning."
The accepted approach is what's called the "30/30 rule". If the time between seeing a flash of lightning and hearing thunder is less than 30 seconds, then it's time to paddle in. For every 3 seconds, the lightning is 1 kilometre away so 30 seconds means it's 10 kilometres away - close enough to be struck.
The other "30" applies to when the storm passes. More than half of all lightning deaths in Australia occur after the storm has passed. Allowing 30 minutes to elapse ensures the danger has passed.
Proof that lightning can strike water...
Lightning Facts:
Lightning can warm the air by 27,700 degrees Celsius, five times hotter than the surface of the sun
A strike can contain a hundred million electrical volts
If your hair stands up on the end of your head, it could indicate positive charges are rising through you. If so, seek immediate shelter
Thunder is caused by the expansion of rapidly heated air
Lightning from the top of a thunderstorm cloud carries a large positive charge. This is known as positive lightning
Positive lightning can strike as far as 16 kilometres from a storm.