The known unknowns of Outerknown
Thursday, 16 July 2015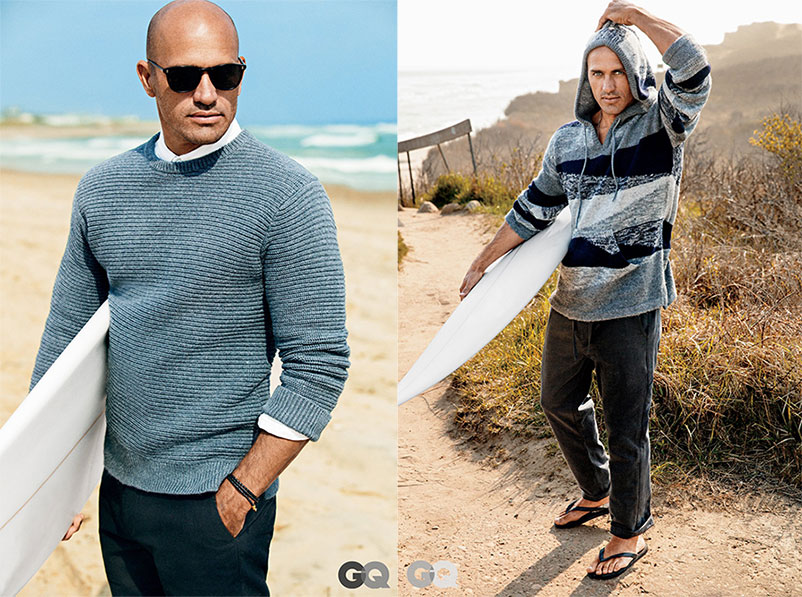 So Kelly released his line of OuterKnown menswear this week and no-one quite knows what to make of it. I'll include myself in that assessment. I understand the expensive price tags (sustainability costs, people) but when it comes to fashion and business I'm floundering.
The guys at Beach Grit are much better versed in fashion and as such they're having a robust discussion on the merits of low cut tees over on their site. The general consensus is that, prices notwithstanding, Outerknown are making pretty classy duds.
But as for Outerknown's business strategy? I'm yet to see anyone offer a convincing explanation or vouch for the success of the operation. Predictions appear based on Kelly's, admittedly patchy, track record with companies such as Kommunity Project and VSTR. A sustainable clothing company was Slater's goal with VSTR, but it was famously euthanised by Quiksilver executives less than two years after launching.
Outerknown appear a more genuine realisation of Slater's lofty goal. In hindsight VSTR and Quiksilver were always destined for trouble. Quik's links with Monsanto were reportedly one of the reason's Slater left, while Kelly's vision and Quiksilver's range were increasingly at odds. "In the low bend of surf clothes, you get exaggerated lingo, overly bright colours, and too many logos," Slater recently told GQ. "I wanted Outerknown to be the opposite."
By trumpeting the virtues of Outerknown Slater must belittle the style of others - including that of his would-be paymaster. Much better for both parties to sever the ties.
So it'd be incorrect to call VSTR a failure, more a non-starter, and in any case it gives no hint to the future success or otherwise of Outerknown. More telling factors are the people Kelly's chosen to work with. There's the Kering clothing group with its established supply chain and distribution network, not to mention an environmental philosophy in lockstep with Kelly's own. At the company level, Kelly's first recruit was John Moore who famously started the infamous surf brand Hollister. Hollister were a fabricated surf brand, they sold 'authentic' surf wear to inlanders and in so doing becamse the largest surf company in the world. If anyone can manufacture authenticity, John Moore can.
More recently, John Moore re-ignited M.Nii trunks, first worn by Greg Noll and crew in the fifties. Moore blew fresh air on M.Nii's long dead coals till they won industry awards and sold for over $100 a pair. Moore is ostensibly a designer but his greatest skill is image making, something he's been very succesful at. Moore is the Malcom McLaren of surfing and will zealously control the Outerknown image. Everything you think about the brand has already been thought about. Moore is four steps ahead of you.
In the executive chairs are three fashion (not surf) industry veterans, all women, with experience at high end outlets such as Barney's New York, cutting edge labels such as Alexander Wang, and also Outerknown's direct competitor, Patagonia.
Patagonia are going to be the brand Outerknown are most compared to, and for obvious reasons. In recent years Patagonia's surf division has been slowly growing, they've shaken the 'Patagucci' tag and found a footing within the surf world. Patagonia held firm with their enviromental philosophy and the public pendulum is slowly swinging their way. Their doctrine of hard-wearing clothes with higher price tags has found a market. And it's a market that Outerknown believes is big enough for two players.