Behind the Shot - Colin Cooney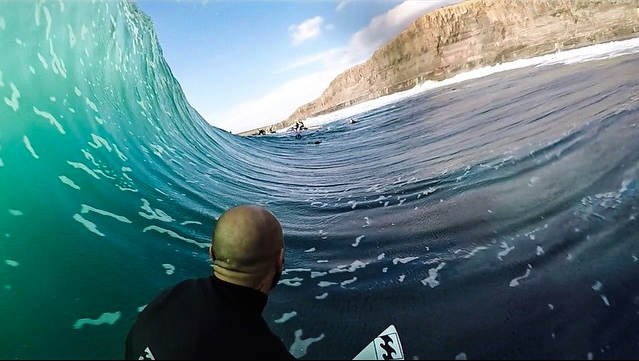 Words and photo by Colin Cooney.
(GoPro shot at right by Shane Dorian)
The small Irish surfing village of Lahinch in County Clare had a flying visit from Hawaiian big wave surfer Shane Dorian last weekend. His arrival on Saturday had been kept pretty low key until he turned up at Kenny's Pub on the main street for a few pints where he presented the winning trophy for the local surf competition held that day.
His timing was just perfect with a fresh swell filling in and hitting the Clare coastline from first light on Sunday morning. It wasn't a massive swell by any standards but with a decent period of 16 seconds and the tides hitting just right gave him the opportunity for two heavy sessions in one day. Shane hooked up with local surfers and scored some epic paddle barrels at the famous 'Aileens' break at the foot of the Cliffs of Moher and then finished off the day with a sunset tow-in Session at Rileys (pictured below). This was Shane's first time ever in Ireland and we have a feeling we may be seeing a bit more of him after this.
Visit Colin's website, Surf Around Ireland.