Sean Doherty on 'MP Untold'
Monday, 3 August 2015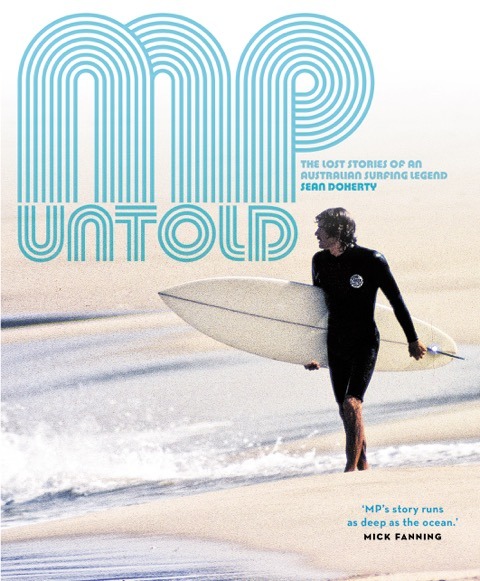 In 2004 Sean Doherty wrote MP: The life of Michael Peterson, and while Sean would be the first to deny it's a definitive account of MP - in fact he says so below - it quickly became one of the surfing world's greatest books. MP is a must read, particularly for Australian surfers, and one that constantly ranks high whenever the 'best surf books' discussion happens around forums or campfires.
MP was Sean's first book. Since then he's written nine more, the latest being MP Untold, a collection of stories about Peterson told by his family and friends. Where the original biography kept a narrow focus, MP Untold widens its scope, inviting others to partake in the storytelling. As Doherty says, MP was "so deliberately absent from even the most key moments of his life, that those around him could fill that vacuum as they pleased."
In MP Untold, that void - or at least part of it - is filled by those closest to him.
Swellnet spoke to Sean about MP Untold.
Swellnet: What's the genesis of MP Untold? Did you seek these new stories or did they seek you?
Sean Doherty: There were a number of forces at work I suppose. In the years after the initial biography was published, wherever I'd travel on the Australian coast I'd be pulled aside by some ol' pirate with a schooner who'd recount an outrageous Michael Peterson story, and I soon became convinced there was this great armada of material still floating out there on the high seas.
Secondly, I think the first book asked more questions than it answered. The day before it went to print - it'd missed six deadlines by this stage - Mrs. P sat me down, poured herself a glass of red, and dropped the bombshell about Michael's father. That revelation kinda shifted the ground under the whole story, but there wasn't the time to explore exactly how before the book printed. That really gnawed at me.
And I suppose the final point where the book crystallised was at Michael's funeral. I looked around the room and realised I didn't know three-quarters of the people there and it dawned on me there was reason for that. They lived, as it turned out, in quiet corners of the coast and were shapers or tradies or they shared a few of Michael's more exotic habits, but few of them had anything to do with pro surfing. In fact, Michael escaped the claustrophobia of pro surfing by hanging with these people, and as a result they knew someone very different to MP the surf star.
If he were alive, would MP have allowed these tales to be told?
I don't think he would have been doing backflips over it, put it that way. He barely tolerated me doing it first time around. And the characters I tracked down for the book were largely the keepers of his secrets, so even though Michael died three years ago some of them still lived by his Omerta. They knew Michael wouldn't want them talking so they didn't. The real story of Michael and Owl Chapman's infamous road trip to Phillip Island in 1977 will never be told. Owl made that pretty clear to me in the Sunset car park late one afternoon.
The first story is both tragic and hilarious, can you tell us any more of that anecdote?
A couple of years before he died, Michael and his mum went back to the old boarding house in Brisbane where she was assaulted and Michael conceived. The house is abandoned but still standing. Michael had of course known about his origins since he was a teenager but it never seemed to be a source of darkness for him. On the contrary. He wasn't happy when Mrs. P let the secret out for the original book, but when he had a DNA test a couple of years before he died and the results came back that his father was of Italian origin, he turned to his Mum and chuckled and asked her to cook him some spaghetti.
If one thing shines through in this new book it's Michael's wicked, dark sense of humour, something only his close friends and family ever saw.
There are a few Rashomon moments, accounts that differ between story tellers. What were your thoughts when first made aware of this?
I know, there were a couple of accounts that clearly seemed to have happened on neighbouring planets, but I loved that. It speaks about the nature of memory, how it's edited and what bits hit the floor and what bits stick, and what bits are spliced in at a later date. And Michael was a fantastic study in living mythology. He was so deliberately absent from even the most key moments of his life, that those around him could fill that vacuum as they pleased and so you end up with all these colourful and often conflicting accounts and this wild, wild mythology.
After he passed away I regretted not trying to hear more of Michael's story from Michael himself, but eventually I realised the beauty of Michael's story is that there is no definitive account, and now there never will be. Good luck debunking anything.
Impressive effort getting stories from Peter Crawford! Supernatural even…
I sat on the headland at Dee Why Point with an Ouija board… plus I had an old cassette of an interview Mick Mock had done back in '99.
Malcolm Knox gives a wonderful intro. His book, The Life, which gives a fictionalised account of MP, seems more pertinent now considering the issues he broaches are the myths of MP, the investment in his legacy, and the effect it all had on the man. MP Untold approaches the same subjects but from a different angle. How do you think the three books - your original biography, The Life, and now MP Untold - relate to each other?
I think they all try and venture into the Great Unknown of MP in their own way. The original biography followed the crumbs and mapped Michael's life from beginning to end. It was largely a what, where and when. He'd been missing for most of his adult life so it was largely a historical reconstruction. The new book is a lot more about why and who. As an oral history it's got more room to explore what made Michael tick. The real unknown however was what was going on inside Michael's mind, how he saw the world, and, I suppose, all the other worlds spinning behind his sunglasses with his schizophrenia. Malcolm boldly went there. I think the common thing is that all three inherently acknowledge they were doomed to fail in their own ways. It's like paddling for the horizon. The harder you try to understand Michael Peterson the further he gets away from you. I'm sure he's laughing at us somewhere. He could never understand all the fuss everyone made over him, and his favourite line to his mum when they talked about it was, "And they thought I was mad!"
MP Untold is on sale now and can be bought online.