Thursday, 16 June 2016
Slower period of moderate swell energy
Java, Bali, Lombok, Sumbawa forecast by Craig Brokensha (issued Thursday 16th June)
Best Days: Exposed breaks every day until the swell gets small Tuesday/Wednesday
This week and next (Jun 17 - 24)
Currently we should be seeing some good fun S/SW groundswell pushing into the coast with developing moderate to fresh E/SE trades.
Sets should be coming in around 6ft on the sets, with a slow drop in size from 4-5ft+ expected tomorrow.
Our mix of very inconsistent long-range SW groundswell and mid-period S/SW groundswell for the weekend is still on track with the SW energy due to arrive later Friday and peak Saturday to an inconsistent but strong 4-5ft with larger less frequent 6ft+ cleanup sets.
The S/SW swell will soften the easing trend through Sunday, keeping 4-5ft sets hitting exposed breaks into the afternoon before easing Monday.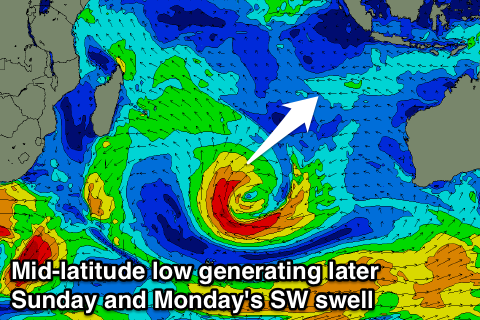 We're now actually due to see some small mid-period SW swell energy later Sunday, easing Monday from the stalling mid-latitude low in the southern Indian Ocean.
This will be from a fetch of weakening strong to gale-force SW winds spreading around the northern flank of the low today, breaking down further tomorrow.
Only a smallish 4-5ft+ of swell is expected, easing back from this size Monday morning, further into Tuesday.
Moderate to fresh E/SE trades are due to continue over the coming days (lighter and more variable through the mornings) weakening into Sunday/Monday before increasing again from Tuesday.
There's nothing significant due through Tuesday/Wednesday next week, with some moderate S/SW groundswell pulses due Thursday through the weekend.
Thursday's pulse won't be especially strong, generated by a flurry of unconsolidated and relatively weak polar frontal activity, but a better long-period S/SW groundswell pulse for Saturday is due from a stronger polar low firing up south-west of WA.

Size wise, Thursday's swell looks to be in the 4-6ft range as it peaks into the afternoon, with Saturday's increase coming in at a stronger 5-6ft+. Longer term we may see a larger pulse for Monday/Tuesday but more on this Tuesday.
16 day Bali Forecast Graph
16 day East Java Forecast Graph
16 day Sumbawa Forecast Graph