Wednesday, 11 July 2018
Forgettable end to the week, much better weekend
Victoria Forecast by Craig Brokensha (issued Wednesday 11th June)
Best Days: Surf Coast Saturday and Sunday, spots handling the size east of Melbourne Saturday, exposed beaches east of Melbourne Sunday afternoon, Surf Coast from mid-next week
Recap
Great waves across the Surf Coast yesterday with all day offshore winds and surf holding around 3-4ft across the magnets, improving on the beaches into the afternoon.
This morning a reinforcing long-period swell has kept the swell up around a similar size with a touch more north in the winds, favouring most locations, while the beaches east of Melbourne are also open for business with the more favourable winds.
We'll see the swell ease slowly through the afternoon as winds hold from the N'th on the Surf Coast and tend N/NE on the Mornington Peninsula.
Today's Forecaster Notes are brought to you by Rip Curl
This week and weekend (Jul 12 - 16)
Want to receive an email when these Forecaster Notes are updated? Then log in here and update your preferences.
This morning's reinforcing long-period SW groundswell is expected to ease slowly this afternoon, dropping further through tomorrow as winds go a little funky.
The Surf Coast should ease from 2-3ft at magnets and the 4ft range on the Mornington Peninsula. A surface trough lingering to our east will retro-grade west through Bass Strait through the day, bringing a S/SE change, but early morning we're likely to see variable winds across both locations.
There's a slim chance this variable wind will be more onshore than offshore, but keep an eye on the local winds observations and dawn reports for a window of OK conditions.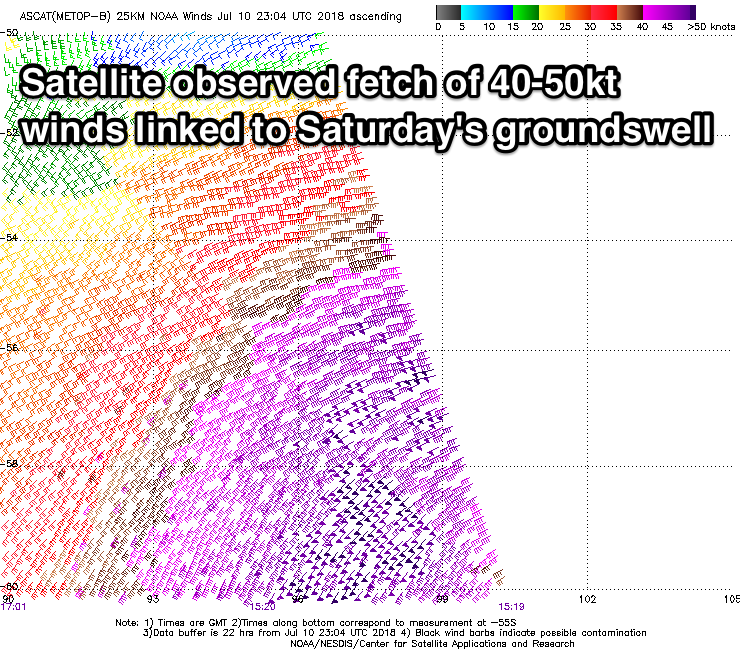 Friday is now looking like a lay day with lingering but easing onshore SW winds as the surface trough pushes back east and develops into a Tasman Low and a low point in swell activity.
Moving onto the weekend and our great new long-period SW groundswell with favourable winds is still on track.
Yesterday an intense polar low formed south-southwest of WA and satellite observations have already picked up an impressive stationary fetch of severe-gale to storm-force W/SW-SW winds in our swell window.
This low is now moving slowly east and will continue to generate a fetch of severe-gale W'ly winds through today, before weakening south-west of Tassie through tomorrow.
A moderate to large and long-period SW groundswell will be produced, with a possible increase seen on dark Friday (but with onshore winds), while a peak is expected Saturday morning.
The Surf Coast looks to offer strong 4-5ft+ sets at magnets through the morning, easing slowly through the day, dropping back from 3ft on the sets early Sunday. The Mornington Peninsula will be solid and come in at 6-8ft on the sets, easing back from 4-5ft Sunday morning.
We'll see winds improve into Saturday as an approaching surface trough moving in from the west brings light N/NW breezes that look to tend variable into the afternoon. The Mornington Peninsula is likely to see light N'ly winds, but without any real strength in the offshore breezes, we may see a bit of lump and less than perfect conditions across both coasts through the day.
Sunday looks good with a touch more strength to the offshore breezes, likely N/NW-N most of the day on the Surf Coast and hopefully improving conditions across the Mornington Peninsula through the afternoon.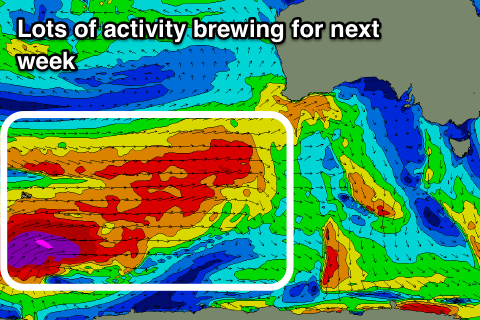 Next week onwards (Jul 16 onwards)
We've looking at small clean leftovers on the Surf Coast Monday, poor to the east with gusty NW winds, but from Tuesday we've got a very active forecast period for the Surf Coast.
A strong node of the Long Wave Trough developing in the south-east Indian Ocean and pushing slowly east will bring with it back to back winter calibre storms and large surf from Tuesday through Thursday at this stage.
The models are still moving around regarding the exact nature of this progression so check back here Friday for a much clearer idea on the individual swell pulses and local winds.