Small and cold for the next few days
Sydney Hunter Illawarra Surf Forecast by James Casey (issued Monday 7th June)
Best Days: Thursday onwards
Outlook (tl;dr)
Not much for start of next week, likely to be the smallest it's been all year
Thursday/Friday small E swell
Larger S/SE swell for the Far South Coast in the 4-6ft range for Thursday through to Saturday, only reaching 1-2ft for Sydney
Chance of S swell for start of new as the low moves away
Recap
Saturday saw a decent S swell fill in and with winds out of the W/SW there were options to be had. South swell magnets were picking up 4ft+ sets, while the more protected beaches were more like 2ft due to the acute nature of the swell direction.
Yesterday the swell backed off to 2ft. With offshore winds all day there were small, fun waves on offer best at south swell magnets.
Today the swell has eased further with just 1-2ft waves on offer at south facing beaches and pretty close to flat elsewhere. Winds are light and offshore so while it's a nice day it's not best for surfing.
The new week
Later today winds will strengthen out of the N creating a bit of bump along the open beaches but keeping S facing beaches clean enough.
I mentioned last week I was trying to look for a decent source of swell to get excited about for the start of this week but here I am still looking for something.
The N winds this afternoon ahead of a low and associated pool of cold air will continue into tomorrow but they are just a little too N/NW meaning most of the swell won't bend in towards the coast.
E winds with a low over NZ's North Island today and tomorrow have the potential to deliver a little bit of E swell for Thursday. Unfortunately it's not that well aimed, it's only a short fetch and it doesn't bring us any swell for today or tomorrow.
Basically it's looking like the worst run of waves we've had all year. To make matters worse it'll be cold too with a cut off low lingering over the southwest of the nation for much of the week.
It'll be as close to flat as it gets tomorrow (Tuesday), 1ft for NE swell magnets at best, thanks to a weak windswell from the N winds. Expect it to be flat and maybe we will be surprised. Winds will be strong out of the N to NE so it'll be bumpy wherever is picking up the most swell.
Wednesday isn't looking much better with just weak NE windswell on offer, again it'll be the best part of flat with the occasional 1ft wave for NE swell magnets. Winds will be more offshore starting off west but tending NW later in the day.
We could see a bit more action by Thursday but it will be the coldest day of the week with it looking to be pretty wet as well. Swell wise we are looking at 2ft of E swell thanks to the fetch of E winds to the west of NZ's North Island earlier in the week. It's not much to get excited about but it's better than flat. Winds will start to shift from NW to SW as the cold air and low begin to move offshore.
As the low moves offshore late Thursday into Friday it begins to get tricky. It looks like we'll start to see a new S/SE swell for the South Coast from winds around the southeastern flank of the low. It could build to be as big as 4-6ft but it'll be confined to the South Coast with Sydney and even the Illawarra unlikely to see much more than 2ft from it unless models change as it isn't aimed all that well for the entire forecast region.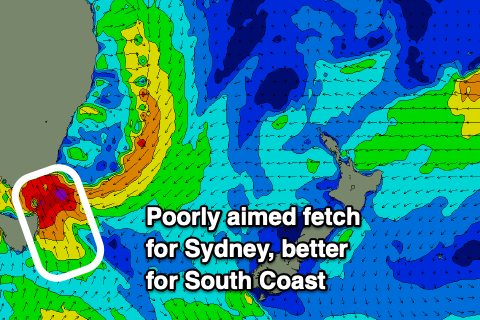 The weekend
The S/SE swell for the South Coast will linger around that 4ft mark into Saturday before easing into Sunday. Meanwhile it continues to be near non-existent for the Sydney region, only looking like it'll reach 2ft. Winds will be strong out of the W for Sydye and more SW for the South Coast.
The low will start moving away from the coast on Sunday into Monday with a S swell a chance for the start of next week but lots can change between now and then so tune in on Wednesday for an update.