Less than ideal end to the week, with large surf developing on the weekend
South Australian Surf Forecast by Craig Brokensha (issued Wednesday May 24th)
Best Days: South Coast today, Saturday, Sunday, Monday, Tuesday, Wednesday, Thursday Friday
Features of the Forecast (tl;dr)
Temp low point in swell early tomorrow ahead of a building mix of W/SW swells
Strengthening W/NW tending W/SW winds tomorrow
Moderate sized mix of mid-period W/SW and SW swell Fri with strong SW tending fresh W/SW winds
Moderate sized SW swell Sat with gusty W/NW winds
Late pulse of mod-large SW groundswell Sat, peaking Sun AM ahead of a much larger S/SW groundswell building later PM
Gusty W/NW tending NW winds Sun
Large S/SW groundswell easing Mon with gusty N/NW tending NW and then W/NW winds
W/NW winds Tue with moderate sized surf
Recap
Yesterday continued to provide great waves across the South Coast with easing 4-5ft sets off Middleton and all day offshore winds with quality waves around the Port Elliot stretch. Today conditions are great with a bit less swell mostly to 3ft and we'll see the size continuing to ease through the day but with clean conditions.
The Mid Coast was back to 1-1.5ft yesterday and a little wind affected, poor into the afternoon and then tiny this morning.
This week and weekend (May 25 - 28)
A temporary low point in swell is due early tomorrow but this will quickly be replaced with building levels of mid-period W/SW swell, generated by a strong mid-latitude front that's currently moving in through the Bight.
A fetch of strong to gale-force W/SW winds will produce a moderate sized W/SW swell that's expected to build through tomorrow afternoon but peak Friday morning.
Strengthening W/NW tending W/SW winds will add some windswell to the mix on the Mid Coast with semi-stormy, building waves to 2-3ft tomorrow afternoon, holding 3ft on the sets through Friday.
The South Coast should see building surf to the 4ft range across Middleton, 2ft to occasionally 3ft in the morning and best in protected spots.
Winds on Friday will unfortunately be strong from the SW, creating poor conditions across all locations, easing and tending more W/SW through the day. Middleton should see the swell peaking from the W/SW and SW, coming in at 3-5ft across Middleton.
Moving into the weekend and we should see the South Coast holding a steady 3-5ft Saturday morning ahead of a building SW swell later in the day, peaking Sunday morning.
This swell will be generated by a great, pre-frontal fetch of W/NW gales forming at the head of a significant polar low to the south of the country tomorrow afternoon and evening.
This fetch alone looks to generate moderate to large sized SW groundswell that's expected to peak on Sunday morning, coming in at 4-6ft across Middleton but we've got an even larger pulse of S/SW groundswell due to fill in through the afternoon.
The low proper will produce a great fetch of severe-gale SW winds while projecting up towards us through Friday and Saturday, on top of the active sea state generated ahead of it.
In the early stages the core wind speeds actually look to reach storm-force and this will generate an oversized S/SW groundswell that is expected to pulse strongly later Sunday afternoon.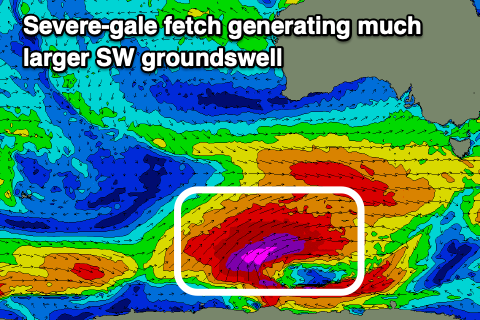 Now, there is still some slight divergence in the modelling between EC and GFS, with EC having the storm being a touch smaller in scope and moving a touch slower up towards us.
What this would result in is a later arrival time Sunday afternoon, more so into the evening and with less size.
With one more forecast day to come, lets peg the size late afternoon to the 8ft+ range down South, but there's room for an upgrade in GFS gets its way.
The Mid Coast is due to ease back to the 2ft range on Saturday, maintaining this energy through Sunday and Monday.
Looking at the local winds and persistent W/NW breezes will favour the South Coast on Saturday, swinging NW Sunday morning and then likely back to the W/NW into the afternoon.
Monday will be excellent for experienced surfers with large, easing surf from the 6-8ft range along with gusty N/NW tending NW winds, then W/NW into the afternoon.
Looking at the rest of the week, and W/NW winds will favour the South Coast on Tuesday as the swell eases, with some moderate sized SW swell energy due later week thanks to the next, strengthening frontal progression. Winds look more favourable and out of the northern quadrant, but we'll review this on Friday. See you then!