Great down South until the attention swings to the Mid Sunday
South Australian Forecast (issued Wednesday 6th July)
Best Days: Thursday through Saturday down South, Sunday arvo and Monday on the Mid
Recap
A strong mix of swells peaked through yesterday with good 2ft sets on the Mid Coast under light variable winds, while the South Coast saw good 4-5ft waves across the Middleton stretch with bigger 6ft bombs at more exposed spots.
Today the swell was easing from the W/SW with 1-1.5ft sets on the Mid, while down South the surf was still solid but a touch smaller than yesterday. Conditions were again great across both coasts but a weak onshore has since moved through.
This week onwards (Aug 7 onwards)
Into tomorrow the easing trend across the South Coast should be halted as a new SW groundswell fills in. This has been generated by an unfavourable but strong fetch of W/NW gales passing under us the last day or so and should keep 3-4ft sets hitting Middleton with larger 5ft sets out at Waits. The Mid probably won't see much size and will continue in the 1ft+ range.
Winds tomorrow will remain favourable for both coasts with early NE tending light NW winds on the Mid and N/NE tending N/NW winds down South, creating excellent conditions.
Into Friday the SW groundswell will ease, but a new S/SW groundswell from a vigorous polar front pushing up towards Tassie today should be seen through the afternoon.
This should keep most locations kicking in the 3-4ft range with the odd bigger bomb at exposed spots before easing considerably overnight Friday and further into Saturday.
Winds will continue to play nice with light to moderate N/NW tending NW winds Friday and fresh N/NW tending W/NW winds on Saturday.
Into Sunday things become a lot more interesting as a large and strong SW groundswell fills in along with a S'ly change.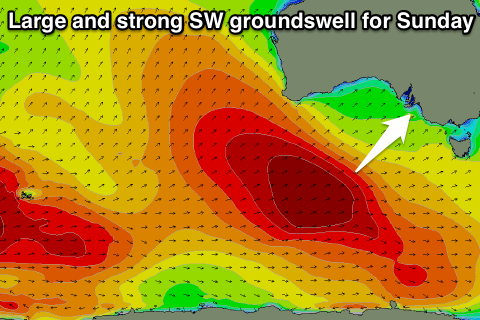 This swell will be produced by a phenomenal polar frontal progression that formed Monday west of Heard Island and is now pushing through the Southern Indian Ocean while generating a broad fetch of severe-gale W/SW winds. This system will continue tracking east and under the country while weakening a touch but continuing to produce gale-force winds aimed towards Vicco and Tas.
A large and powerful SW groundswell will result, filling in strongly Sunday and peaking overnight.
We should see the Mid Coast build to 2ft during the afternoon and with S/SE winds, there should be fun waves on offer. The South Coast will see more size to 5-6ft at Middleton with bigger bombs at Waits but conditions will be poor with the straight onshore wind.
Monday will fare a touch better down South as the large swell eases slightly through the afternoon and winds tend E/NE through the morning. The Mid should ease from an inconsistent 2ft.
Longer term a couple of long-range SW groundswell pulses are due with E'ly winds through the second half of next week but we'll look at this again on Friday.