Tuesday, 5 August 2014
Slowly easing over coming week, large from the S/SW Monday
Java, Bali, Lombok, Sumbawa forecast by Craig Brokensha (issued Tue 5th Aug)
Best Days: Every day besides Saturday arvo and Sunday morning
This week and weekend (Aug 6 - 10)
Yesterday morning was a low point in swell activity but late in the day the fore-runners of an inconsistent and large long-range SW groundswell started to show.
This swell is continuing to fill in today and should peak around midday at an inconsistent 8-10ft across exposed breaks with smaller surf in protected locations.
From this evening though the swell will drop away, with a reinforcing S/SW groundswell for later tomorrow afternoon expected to slow the easing trend through Wednesday and then through the rest of the week.
Exposed spots should still offer 8ft sets tomorrow before dipping away slowly from 6ft+ Thursday.
Fresh to strong E/SE trades will limit the best waves to protected spots where the swell will be smaller (weakening a touch through Friday before strengthening again into Saturday afternoon and further Sunday.
Sunday morning is looking to be our new low point but late in the day we should see the fore-runners of a new large and powerful S/SW groundswell that's due to fill in and peak Monday. This is discussed in more detail below.
Next Monday onwards (Aug 11 onwards)
Monday's large and powerful S/SW groundswell has already started to be created. West of Heard Island a vigorous and slow moving polar frontal progression is generating a broad fetch of severe-gale W/SW winds and this system will continue moving slowly east while sustaining those wind speeds along with stronger storm-force winds at its core.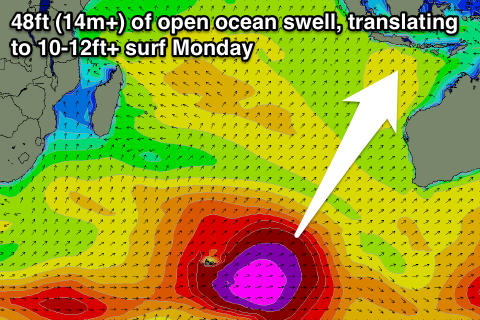 This will produce a very large open ocean swell to 48ft (over 14m) in the South-eastern Indian Ocean with the swell expected to travel towards us and arrive later Sunday, before peaking midday Monday.
Size wise we should see 10-12ft sets at exposed spots around Bali with the odd freak bomb possible with similar waves across East Java and smaller surf around Sumbawa.
After Monday's peak a steady drop in size is due into Tuesday and Wednesday with another large but much smaller S/SW groundswell on the cards for Thursday and Friday (we'll look at this again on Thursday).
Strong E/SE trades on Monday will limit the best waves to protected spots but these should ease through the week opening up more options at more exposed breaks from Wednesday onwards.
16 day Bali Forecast Graph
16 day East Java Forecast Graph
16 day Sumbawa Forecast Graph