Great waves over the coming days, large and onshore from Sunday evening
Western Australia Surf Forecast by Craig Brokensha (issued Monday 15th September)
Best Days: Tuesday morning, Wednesday morning, Thursday morning, Saturday morning
Recap
New levels of strong W/SW groundswell started to fill in Saturday with inconsistent 8ft sets in the South West, 3ft waves in Perth and 4-5ft waves up at Gero.
The swell really kicked strongly into the afternoon with very large sets in the South West and chunky beachies in Perth as winds tended variable into the afternoon around the former, and light to moderate onshore around Perth.
The swell backed off through Sunday from 8ft+ across exposed breaks in the South West while Perth was still in the solid 3ft+ range. Winds were less than ideal around Margs though, variable tending onshore while Perth and Gero saw morning offshores.
Today the start of a new long-period W/SW groundswell has showing across most coasts with 6ft+ waves in the South West, 3ft sets in Perth and 3-4ft waves up at Gero. The swell should kick strongly late in the day across all breaks and ease through tomorrow (discussed below).
This week (Sep 16 - 19)
This afternoon's large and long-period but inconsistent W/SW groundswell was generated by a similar but smaller and shorter-lived polar frontal system, compared to the storm that generated Saturday afternoon's swell.
This swell should pulse strongly late in the day reaching 8-10ft in the South West, a more consistent 3ft in Perth, while Gero should see a peak in size tomorrow morning to 6ft+.
A drop in size should be seen through tomorrow from a similar size to late today across the South West and Perth as winds clock offshore from the E/SE (SE up at Gero) ahead of afternoon S/SW breezes.
Wednesday looks great again during the morning with straighter E'ly winds south of Perth and E/SE winds around Gero as the swell continues to drop away.
The swell should bottom out but remain fun into Thursday with variable winds around the South West, light SE winds in Perth and unfavourable S/SE winds up at Gero with all spots giving way to a shallow SW change into the arvo.
A new SW groundswell is due to build on Friday from an unfavourable but strong polar frontal system to our south-west, dipping away to the south-east over the coming two days.
A moderate to large SW groundswell should result, but winds look to linger onshore from a stronger overnight change Thursday with fresh but easing SW winds.
This weekend onwards (Sep 20 onwards)
Friday's building SW groundswell should peak Saturday across all coasts to 5-6ft+ in the South West, 2ft+ in Perth and 3-5ft up at Gero under favourable E/NE winds, but these will quickly swing to the N'th, so the morning will be the pick.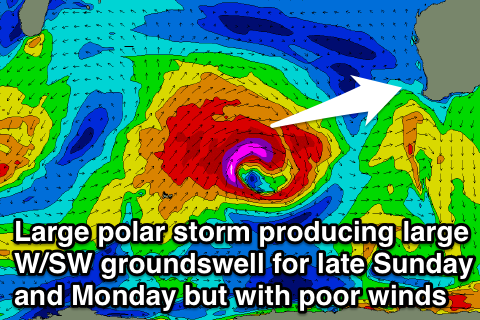 Into Sunday and Monday a mix of large W/SW groundswell along with short-range W'ly storm swell is due across the state.
This will be related to a vigorous polar frontal system firing up under the influence of the Long Wave Trough in the central Indian Ocean (right), before the system pushes east towards us and takes the form of a deep cut-off low. This will bring large onshore waves to all coasts, with the system likely to clear into Tuesday resulting in rapidly improving conditions.
Behind this we're likely to a secondary reinforcing large SW groundswell with favourable winds Wednesday and Thursday, but more on this Wednesday.