Capitalise on the weekend
Victorian Surf Forecast by Craig Brokensha (issued Friday 9th November)
Best Days: Exposed beaches Saturday morning, exposed beaches Sunday, Surf Coast Tuesday morning for the keen, Wednesday morning Surf Coast
Features of the Forecast (tl;dr)
Easing surf tomorrow with variable E tending S/SE winds
Small SE swell for selected spots tomorrow
Small, mid-period W/SW swell for later tomorrow, peaking Sun, with a secondary pulse for later in the day
Fresh N/NE winds, tending N through the late PM, variable into the evening
Building W/SW windswell Mon PM with strong W/SW-SW winds
Easing windswell Tue with strong N/NW winds, shifting W/SW around midday
Mid-period SW swell Wed with gusty W/NW winds, tending strong SW late morning
Poor surf Thu and Fri with strong S/SW-S/SE winds
Recap
Plenty of size yesterday with a mix of windswell and SW groundswell, coming in the 4ft range on the Surf Coast and 6ft to the east but with average conditions under a W/SW tending S/SW breeze.
Today is a write-off across all locations thanks to a strong S'ly wind and drop in size and period.
This weekend and next week (Dec 10 - 16)
The stalling Tasman Low, east of Tasmania, linked to the current cold weather and onshore winds will start to weaken and push east on the weekend, allowing a high to move in.
This will bring warmer weather and improving conditions but the surf will ease and become small.
Tomorrow looks slow and back to 2ft on the Surf Coast with 3ft sets to the east along with lighter, variable winds from the E. They look to tend E/NE at times and E/SE at other times, so conditions will likely be a little lumpy before S/SE sea breezes kick in.
For the observant there'll likely be some small SE swell in the water across selected locations, sneaking through Bass Strait from the stalling Tasman Low.
Into the afternoon and more so Sunday, some new, inconsistent mid-period W/SW swell is due, generated by a broad, but relatively weak low that formed to the south-west of Western Australia during the week.
A pre-frontal fetch of strong W/NW winds were followed by W/SW winds, with an initial swell for later Saturday/Sunday followed by a secondary pulse later Sunday.
They'll be inconsistent and to 2ft on the Surf Coast with 3ft to occasionally 4ft sets to the east, with those exposed beaches fairing best under a fresh N/NE offshore wind. A trough that was expected to move through Sunday afternoon now looks weaker and delayed with N'ly winds due into the late afternoon, likely tending variable into the evening ahead of the change early Monday and strong W/SW-SW winds for the start of next week.
Monday's strengthening onshore winds will be linked to a trough moving in and across us, though the evolution of this and follow up activity has changed a little.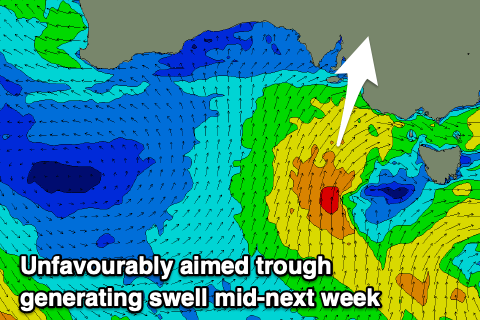 We were looking at a mid-latitude low, tracking unfavourably north through our swell window, but instead we're now looking at a funky trough which will be off-axis and not great for swell generation.
Going into more detail, Monday's front will produce a weak increase in W/SW windswell for Monday afternoon which will ease through Tuesday. Building, onshore surf to 2-3ft is expected later in the day on the Surf Coast, 4-5ft to the east with a possible late swing in winds to the W.
This swell will ease from a similar size Tuesday morning, still weak and with strong N/NW winds ahead of a midday W/SW change as a secondary trough pushes up and towards us.
This trough will be a little dicey for swell generation, initially in our south-western swell window before projecting up towards South Australia.
This will result in another weak increase in size later Tuesday but more so Wednesday to 3ft+ on the Surf Coast and 4-6ft to the east. With the trough projecting towards South Australia, winds look to kink around to the W/NW again during Wednesday morning, before shifting strong SW late morning and then remaining S/SW Thursday before starting to shift S/SE Friday as a high tries to move in from the west.
This high looks to be held to our west as the trough moving through mid-week deepens in the southern Tasman Sea later in the week. This will keep S'ly winds blowing through next weekend, possibly improving Sunday. With the high to our west and swell producer to our east, there'll be no major swell generating storms through the Southern Ocean, so try and make the most of the weekend and windows of weaker swells on the Surf Coast early-mid next week. Have a great weekend!