Lighter winds and one swell to try and capitalise on
Victorian Surf Forecast by Craig Brokensha (issued Wednesday 24th)
Best Days: Keen surfers Surf Coast tomorrow morning, beaches Saturday morning, Sunday morning, Surf Coast Monday morning
Features of the Forecast (tl;dr)
Easing SW swell tomorrow with a morning W/NW breeze
New mid-period SW swell Fri but with mod-fresh S/SW tending S/SE winds, easing Sat with morning E-E/NE winds
Strong mod-large SW groundswell filling in Sunday with variable winds ahead of a late morning S/SE change, easing Mon with morning W winds
Recap
Monday's late increase in inconsistent SW groundswell held into yesterday morning across the state though onshore winds created generally average to poor conditions. Protected spots were best for the keen.
This morning we've got a bit less size though exposed breaks are still chunky. More variable winds are creating cleaner conditions though with decent options across most spots.
This week and weekend (Feb 25 - 28)
Over the coming 24 hours we'll see a much more pronounce drop in swell energy and size following the prolonged swell generated by the 'bombing' low.
Some weaker, background frontal activity through the South Ocean will keep the Surf Coast around 2ft through Thursday (3-4ft Mornington Peninsula), while a small, poorly structured system firing up south-west of us this afternoon looks to produce a slight kick in mid-period energy Friday.
2ft to possibly 3ft sets are expected on the Surf Coast with 4ft+ waves to the east, easing into Saturday back from 2ft and 3ft to occasionally 4ft respectively.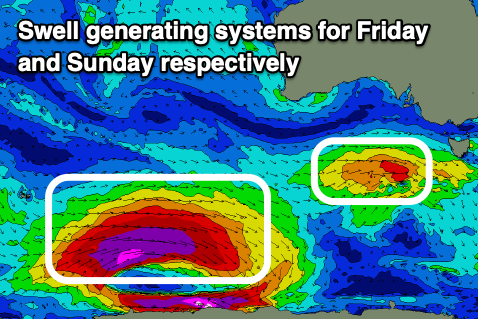 Winds tomorrow will favour the Surf Coast with a morning W/NW breeze, shifting SW early afternoon as the system linked to Friday's swell moves through. Unfortunately this will bring S/SW tending S winds on Friday, creating average conditions.
Saturday morning is looking better for the beaches though with a morning E-E/NE breeze ahead of S/SE sea breezes.
Late Saturday we should start to see hints of long-period SW groundswell arriving across the state, though the bulk of the swell is due Sunday.
The source of this swell is another 'bombing' low which developed around the Heard Island region yesterday as Tropical Cyclone Guambe was absorbed into the westerly storm track.
A fetch of unfavourably aligned storm-force W'ly winds were generated through yesterday afternoon with a better fetch of severe-gale to storm-force W-W/NW winds due to be generated south-west of WA today. The low will weaken while continuing on a slight east-southeast track tomorrow, breaking down south-west of us on Friday.
A moderate-large, though inconsistent SW groundswell is due, similar in size to late Monday's with 3-5ft sets due across the Surf Coast Sunday at its peak through the day (4-5ft swell magnets), 6-8ft to the east.
Conditions are now looking a bit better with variable winds due ahead of a trough and S/SE change late morning. This should offer fun waves for the experienced.
Monday is looking a bit better as well with a period of W'ly winds likely through the morning as the groundswell eases from 3-4ft and 6ft respectively.
Following this strong swell,m there's nothing significant on the cards and a slow moving high will bring poor, S/SW tending S/SE winds Tuesday through Thursday. Therefore try and work the windows of favourable winds and conditions.