Friday, 31 January 2020
Harvest those brownie points this period
Victoria Forecast by Craig Brokensha (issued Friday 31st January)
Best Days: Today, exposed beaches Thursday morning and Friday morning next week
Recap
Great waves across the exposed beaches both yesterday and still hanging in there this morning. Easing from 3-4ft yesterday, and still hanging in at 2-3ft this morning. The Surf Coast was small but still fun, tiny today.
Winds should remain offshore across the beaches until late afternoon today as the swell continues to ease - giving into a SW change.
This weekend and next week (Feb 1 – 7)
The weekend is still a no go regarding surf with the swell due to bottom out and besides local offshore winds at dawn tomorrow, a mid-morning SW change will write-off the rest of the day.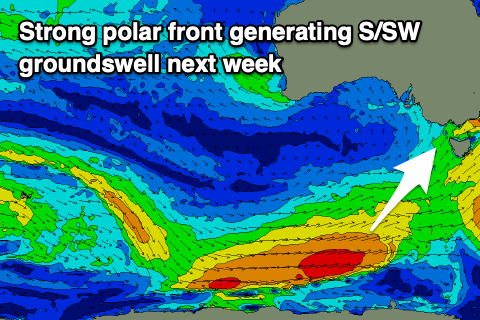 Come Sunday morning, NW offshores will create clean conditions on the Surf Coast but there's no new swell due until late in the day when winds shift W/SW. This swell will only be weak windswell, generated by a weak front moving through our swell window tomorrow and unlikely to to 1-2ft west of Melbourne, 3ft to the east.
Looking at the mid-period pulses of W/SW and SW swell due across the state Monday and Tuesday, and an initial weak polar front will push up towards the Bight and then east, through our western swell window and without much strength this evening and tomorrow, strengthening a little while dipping south-east just west of us Sunday.
A small and weak W/SW swell is due off this front Monday morning, coming in at only 2ft+ on the Surf Coast magnets and 4ft+ or so to the east, but a secondary stronger and better aligned (though still weak) front will push up and towards us Sunday evening and early Monday.
This should produce a stronger increase in size to 3ft into the afternoon on the Surf Coast and 4-5ft to the east but a dawn W/NW breeze will shift strong SW mid-morning, creating poor conditions when the size fills in.
Monday's change will be followed by a strong high moving in from the west, squeezed by a deepening surface trough off the East Coast, resulting in persistent onshore winds through most of next week.
This will also spoil a good moderate sized S/SW groundswell that's due to develop from a strong polar low firing up on the bottom edge of the high, projecting W/SW-SW gales through our south-western and southern swell windows.
Coming back to Tuesday though and onshore S/SE winds will create poor conditions as the mid-period SW swell eases, smaller Wednesday with similar winds.
The S/SW groundswell should fill in Thursday, providing a kick in size to 3ft+ on the Surf Coast and 4-5ft to the east, though SE winds will create less than ideal conditions (possibly E/SE across locations to the east) ahead of S/SE sea breezes. We'll have a closer look at this on Monday.
Friday looks to offer more favourable and variable E/NE winds in the morning as the S/SW groundswell drops back in size from 2ft to possibly 3ft on the Surf Coast, 4ft+ to the east. Longer term the slow moving surface trough/low off the East Coast looks to strengthen off the southern NSW coast bringing strengthening SE winds through Bass Strait and SE windswell next weekend. More on this Monday. Have a great weekend!