Monday, 20 January 2020
Improvement in the swell and local winds from late week
Victoria Forecast by Craig Brokensha (issued Monday 20th January)
Best Days: Surf Coast Friday, Saturday, Sunday morning, Monday morning, Tuesday morning,
Recap
Generally poor conditions across the Surf Coast all weekend, with workable waves for the keen east of Melbourne. Biggest Saturday and smaller yesterday with easterly winds ahead of sea breezes.
This morning the swell is smaller again and only for the desperate on the exposed beaches, poor on the Surf Coast.
This week and weekend (Jan 21 - 26)
Tomorrow will be another lay day as our current small mix of swells ease further, dropping from 1-2ft on the Surf Coast and 2ft to occasionally 3ft on the Mornington Peninsula. Winds will be onshore out of the SW and moderate, tending S/SE through the day.
Our offshore winds for Wednesday are still on track, but they'll be fresh early and then strengthen through the morning, along with a small and fading swell. There'll be very inconsistent and small 2ft sets on the exposed beaches early, likely becoming near flat through the day with the strengthening offshores, giving into an evening SW change. Not worth driving for at all.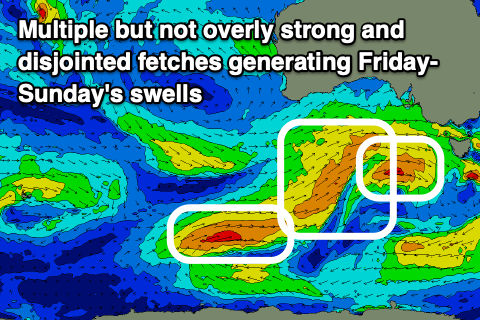 As touched on in last week's updates, we've got a mid-latitude low forecast to move in through the Bight tomorrow afternoon, stalling and directing a short-lived fetch of strong to gale-force W/SW winds in our western swell window before breaking down Wednesday afternoon. The low is then forecast to project a core fetch of W/SW gales towards us Thursday, followed by a secondary weaker front right behind it. This all makes for a tricky forecast, but we'll see mainly mid-period W/SW swell without any major size for the Surf Coast until Friday (which will be cleanest), bigger to the east.
There's no size due on Thursday when winds will blow from the N/NW ahead of a stronger afternoon W/NW change, but come Friday building surf to 3ft+ is expected through the afternoon on the Surf Coast, 5-6ft to the east with similar N/NW tending W/NW winds, though lesser in strength. The morning should be 2-3ft and 4-5ft respectively.
Saturday looks to come in around a similar size, easing slightly through the day under N/NW tending W/NW morning winds, and S/SE sea breezes.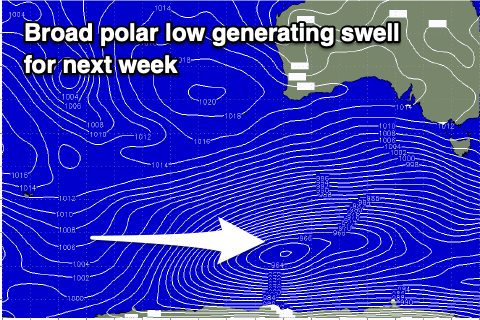 From here the forecast gets trickier again, with a broad stalling polar low due to develop south of Western Australia on Friday, with multiple embedded fronts spinning around it, creating various fetches of strong to gale-force W/SW winds through our south-western swell window.
A final push towards us is then expected early-mid next week, with the end result being a prolonged moderate sized SW swell event from later Sunday through most of next week and with winds from the western quadrant. We may see a few windows of cleaner conditions to the east, but more on this in Wednesday's update.