Great forecast period ahead
Victoria Forecast by Craig Brokensha (issued Friday 3rd July)
Best Days: Both regions most of the forecast period, Sunday the biggest
Recap
A building SW groundswell and early W'ly wind offered a small window of workable waves on the protected reefs and beaches west of Melbourne yesterday before a strong SW change moved through. This created stormy conditions as a larger pulse of SW groundswell filled in.
This swell has eased back into this morning as winds tended offshore on the Surf Coast with easing, clean 3-5ft waves. The Mornington Peninsula was cleaner as well but a lumpy 6-8ft, with better options at Flinders and in Western Port.
This weekend and next week (Jul 4 – Jul 10)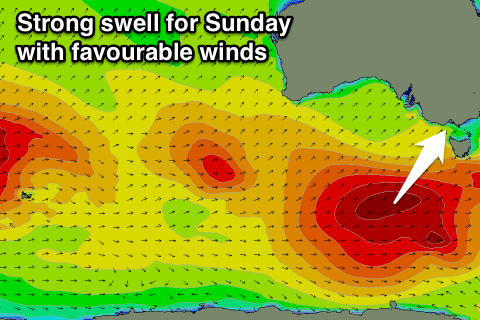 The weekend is looking great, with us expected to fall in between swells tomorrow across both coasts, with today's easing SW groundswell and a late pulse in new W/SW swell.
The Surf Coast should continue to offer easy 3ft sets all day with surf in the 6ft range on the Mornington Peninsula under NW winds that may swing more W/NW into the afternoon. The Mornington Peninsula may see winds holding from the N/NW all day, and easing into the afternoon.
Into Sunday our good pulse of S/SW groundswell is still on track, with a strong polar low currently pushing east-northeast along the polar shelf, aiming a fetch of W/SW gales through our southern swell window.
A strong groundswell just south of south-west in direction is due through Sunday, peaking to a good 4-5ft across the Surf Coast with the odd bigger bomb possible at swell magnets, with 6-8ft sets on the Mornington Peninsula. Conditions will be great all day with a fresh N/NW breeze, likely tending N'ly at times east of Melbourne.
A late easing in size is due and further into Monday from 3-4ft and 6ft+ respectively under straighter N'ly winds. This will favour the beaches over the reefs west of Melbourne.
Tuesday will be smaller with a very inconsistent W/SW groundswell from a weak low pushing in under WA, and this will just keep infrequent 2ft sets hitting the Surf Coast and 3-5ft waves on the Mornington Peninsula under W/NW tending W/SW winds.
Into the end of the week a mix of very inconsistent long-range W/SW groundswell energy is due, generated by a couple of strong polar frontal systems currently moving through the Indian Ocean, in our far swell window.
An initial very inconsistent W/SW groundswell pulse due to build through Thursday won't offer any major size, with infrequent 2ft sets due through the morning, with the possible 3fter into the afternoon on the Surf Coast, with 3-4ft+ waves on the Mornington Peninsula, with 5ft+ bombs likely into the afternoon.
A slightly better pulse is due Friday morning as the frontal progression pushes closer to us and under WA early next week, keeping 2-3ft waves hitting the Surf Coast Friday with 4-6ft sets on the Mornington Peninsula.
Our forecast model is combining all these various long-range pulses and over-forecasting the size a touch, so this is worth keeping in mind.
Conditions Thursday and Friday are looking good with local offshores, but we'll review this on Monday as there's some funky and tricky troughs forming in our region later next week. Have a great weekend!