Sustained E/NE groundswell continues
Sydney, Hunter and Illawarra Surf Forecast by Guy Dixon (issued Monday 25th January)
Best Days: Northern corners of open beaches Tuesday - Thursday and south facing beaches on Friday.
Recap:
Not a bad weekend of surfing, with plenty options opening up off a long range east/northeasterly groundswell. Saturday saw the first indications of any significant size, with sets pulsing in the 3-5ft range along all coasts throughout the weekend, holding today.
Consistency has been an issue, with a bit of a wait for the bigger sets, but improving as the weekend progressed.
Saturday morning offered clean, oily conditions under a light offshore airflow, however conditions soon deteriorated as breezes swung southerly. Sunday saw these southerlies persist, lacking the offshore component early. Surface quality was by no means 'all time', but there were some workable options at selected locations.
The most notable aspect of this swell is the prolonged nature. We've had multiple days of solid groundswell off a cyclone, especially straight after Ula. Not bad!
This week (Tuesday 26th - Friday 29th):
Victor's groundswell is expected to continue this week, ebbing and pulsing slightly as a result of brief attenuations and intensifications of the system as it has drifted south over the past few days.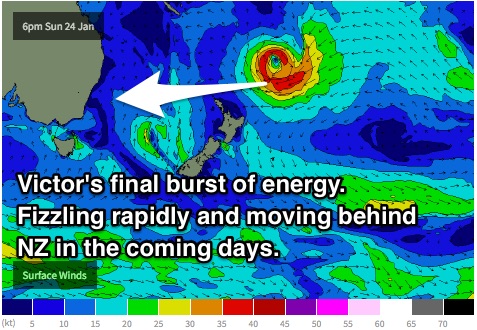 Sets should ease from the 3-4ft+ range across the open beaches on Tuesday, a slight decrease in size in comparison to today. Early variable winds are expected, before freshening from the east-northeast through the day.
Victor was at it's weakest and least structured throughout the weekend, which should in turn result in the surf fading further into Wednesday, with occasional sets easing from the 3-4ft range. Breezes should start out light easterly, increasing and tending northeasterly across all coasts throughout the day.
However, we are expecting a slight pulse on Thursday morning following an intensification which showed up on today's satellite pass.
Easterly core fetches of up to 50kts which showed up on satellite overnight should provide a kick back to the 3-5ft across open beaches early on Thursday morning, potentially in the 4-5ft range across the east swell magnets with favourable reef bathymetry that focuses these long range groundswells.
From today onwards, this system is expected to continue moving south, with the North Island of New Zealand coming into play from Tuesday, casting a swell shadow for NSW. This is no great loss however, because models are also indicating that this system is due to weaken fairly rapidly, with its swell generating potential dwindling.
The sets across the open beaches are expected to ease from the 3-4ft range on Friday helped along by a secondary shorter range swell which is forecast to develop mid-late week.
A Tasman ridge is expected to build throughout the week, steering a weak easterly airflow, ultimately swinging northeasterly and increasing just offshore from Wednesday.
By Wednesday afternoon, open beaches should see a short range northeasterly windswell increase to the 2ft range, slightly bigger further south where the fetch is marginally stronger. As this airflow persists throughout Thursday, we can expect this windswell to build further to the 3ft range, before peaking on Friday in the 3ft+ range.
Far northern corners will be best place to look for a clean wave on Thursday with a gusty north/northeasterly breeze dominating, tending northerly at times. Open beaches will likely be wind affected, unless you can find a sizeable headland to tuck behind.
There are indications that breezes may tend north/northwesterly along the Illawarra coast in the afternoon which would help with wave quality.
This northeasterly fetch looks to push offshore during the later stages of Thursday, leading to a window of light/offshore breezes preceding a weak southerly change, at least according to some models. We hope to see light westerly breeze for the Sydney, Central Coast and Hunter Coasts on Friday morning, tending southerly later, but other models have the light winds delayed until evening and much less favourable.
This weekend (Saturday 30th - Sunday 31st):
Moving into the weekend, a fun, but fairly modest southeasterly swell looks to peak on Saturday morning generated by a small fetch sitting off the southern tip of New Zealand's South Island (with a small Cook Strait fetch also adding hints of energy).
This swell alone looks to provide workable options in the 2-3ft range across south facing beaches on Saturday morning, perhaps a touch bigger across the Hunter.
Conditions should be clean and workable under a light/variable airflow, tending northeasterly in the afternoon.
Further ahead, the long range swell windows look to remain fairly dormant.
More locally however, the synoptic situation looks dynamic with the potential for low to develop within a deep trough late on the weekend, moving off the NSW south coast late on the weekend.
This chances of this scenario playing out, although very complex varying between models, looks like a fairly good chance of happening. It looks as though a cutoff low may develop over Tasmania around Thursday and move northward, not making it towards the Tasman. However, a second low over looks to develop late on Friday into Saturday, somewhere in the Tasman.
It'd be pretty unwise to make a forecast with all the uncertainty of where the low may become established, however at this stage, any significant swell generating breezes look unfavourably aligned, so the chance of big swell is limited (some readers have been monitoring hints of an easterly swell on the 30th - this was the same system). MSLP chart on WAMS show the GFS scenario well (http://www.swellnet.com/reports/australia/new-south-wales/northern-beaches/wams).
Lets save it until the scenario firms up more.