Friday, 21 February 2020
Beginner waves all weekend, more energy and size next week
UNLESS YOU LIVE AT THE BEACH, PLEASE DON'T TRAVEL TO SURF
COVID-19 is changing the way we think about surfing. Travelling to the surf now means you're putting an unnecessary strain on the resources of small regional communities. So, please stay home. If you live near the beach and want to surf, please maintain a healthy spacing in the lineup, don't hang in the carpark, and keep your surf sessions shorter to allow others the opportunity to get wet. Above all, stay happy, healthy and look out for one another.
Southern Tasmania Surf Forecast by Craig Brokensha (issued Friday 21st February)
Best Days: Next Wednesday
Recap
Tiny surf yesterday and today, with cleaner conditions compared to earlier in the week, best suited to beginners.
This week and weekend (Feb 22 - 28)
The weekend should see a tiny mix of background swells to 1-1.5ft both Saturday and Sunday, creating small peelers for beginners and morning offshore winds should create clean conditions.
We then look at the mix of W/SW swells due into Monday, the first being long-period and inconsistent, generated by a distant polar low, with the secondary mid-period energy generated by the remnants of the low moving slowly east through our medium range swell window today and tomorrow.
Both swells are due to fill in Monday and peak through the day to 2-3ft across Clifton, a little lully at times and with a light morning W/NW breeze, giving into afternoon sea breezes.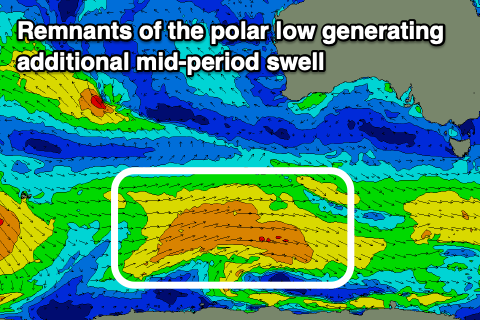 The swell will ease Tuesday with a N/NE tending E breeze ahead of S/SE sea breezes.
As touched on in the last update, a strengthening node of the Long Wave Trough moving in from the west will bring an increase in polar frontal activity, initially too west and then more favourable later week.
The initial frontal system falling under the effects of the LWT will develop south-west of WA and project up towards Victoria, through our western swell window.
Only a small 2ft wave is due off this progression on Wednesday and with strengthening W/SW-SW winds, while a secondary stronger front will form more east and generate a fetch of W/SW gales through our closer-range western and south-western swell windows.
More size to 4ft or so is expected on Friday with this swell and with favourable morning W/NW winds. More on this Monday though. Have a great weekend!