Ordinary weekend ahead, but plenty of swell sources for the long term
South-east Queensland and Northern NSW Surf Forecast by Ben Matson (issued Fri 17th Feb)
Forecast Summary (tl;dr)
Small average weekend of waves, nothing special
Decent long period S'ly swell late Tues (MNC) and Wed (Northern NSW); expect large variations in size
Not expecting much, if any of this S'ly swell north of the border
Building trade swells throughout most of next week offering workable waves across most coasts
Tropics looking good long term
Recap
Easing 3-4ft surf from Cyclone Gabrielle across Northern NSW on Thursday (smaller in SE Qld) still provided great waves with early light winds, but the trend has continued slowly down since. We've seen peaky 2-3ft surf across Northern NSW this morning, smaller north of the border, easing through the day, with early light winds ahead of the afternoon sea breeze.
This weekend (Feb 18-19)
Not much surf expected for the weekend.
Local winds will dictate quality as per usual though there'll be more emphasis on the early session with Saturday's synoptic flow expected to swing to the NE (mainly south of the border), tending more easterly into Sunday. Variable pockets are likely both mornings.
No major surf is on the horizon unfortunately so it'll be exposed beaches for any rideable action, many spots including the regional points will be very quiet. There's a minor S/SE swell moving along the coast but this won't favour anywhere north of the border.
Next week (Feb 20 onwards)
OK first up, we've got some small, user-friendly east swell on the way, courtesy of a building ridge across the northern Tasman Sea, stretching out towards a small troughy feature N/NE of New Zealand on Sunday.
This pattern won't generate much size but it'll create some fun mid-week trade swell for the open beaches, generally around SE Qld and Far Northern NSW but even the Mid North Coast should pick up some energy.
Northern regions should see size peaking in the 3ft range, and there's a chance for a little more juice mid-late week as the pattern retrogrades westward into the Coral Sea and the ridge muscles up along Queensland's coastal margin.
A secondary ridge building through the Tasman Sea mid-week also doesn't look terribly exciting on the synoptics, but this should help to increase the size potential along the Mid North Coast (second half of next week), which otherwise sometimes dips out under Coral Sea patterns which focus the energy to the north.
Righto, on to the more interesting developments.
An interesting succession of poorly aligned but explosive Southern Ocean low pressure systems below the continent will generate a spread of acute south swell along the entire NSW coast early next week.
The first swell doesn't look much chop, as it's tracking perpendicular through the swell window, and core wind speeds weren't terribly strong either. Glancing energy is expected at a handful of reliable south friendly beaches later Monday (mainly south from Coffs) and I'll be surprised if there's much more than a foot or two on offer.
The second long period south swell is expected later Tuesday, peaking Wednesday, and will have been generated by a far stronger system, displaying core winds of 50-60kts, south-west of Tasmania on Sunday (see below). Its alignment still isn't great and Tasmania will shadow the bulk energy, but it's a very powerful storm whose energy will probably get into unusual places more efficiently than normal.
Model guidance suggests the leading edge swell periods could top out north of 20 seconds though the bulk surfable energy will be some distance behind, pushing along the coast into the afternoon then easing into Wednesday afternoon.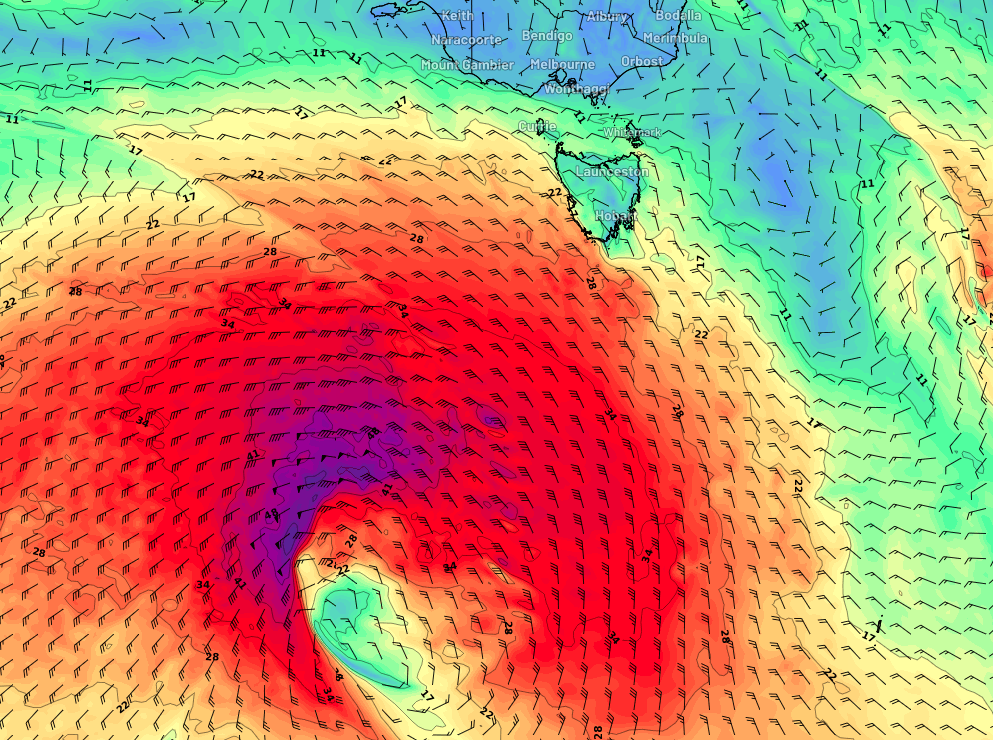 It's a really tricky system to have confident in wave heights from as we'll see an enormous spread of wave heights from beach to beach, and also from coastal region to coastal region.
So, if it all comes together, reliable south swell magnets may see 4-5ft sets, though I suspect most south facing beaches south of the border will reach an inconsistent 2-3ft early Wednesday. Many locations will dip out completely, relying instead on the aforementioned trade swell.
This southerly groundswell is likely to be very hit and miss but should absolutely be on your radar for opportunities soutn of the border, as winds should become light and variable ahead of a gusty SE wind change overnight Wednesday as the new ridge moves along the Northern NSW coast.
SE Qld will see generally easterly quadrant winds accompany the trade swell next week, with isolated pockets of light morning southerly winds, mainly the southern Gold Coast. It'll keep you surfing but quality won't be anything amazing.
Long term outlook it's active across our immediate swell windows as monsoonal activity pushes across the top end and down from the tropics next weekend. Gut feel for the long term trend from this neck of the woods is very good right now.
Have a great weekend, see you Monday!