Monday, 13 January 2020
Here come the south-easters
South Australian Forecast by Craig Brokensha (issued Monday 13th January)
Best Days: Mid Coast late tomorrow and possibly Wednesday morning for the keen, Mid Coast for beginners Friday
Recap
Poor and average conditions across the South Coast Saturday, improving yesterday though still not great, while a good W/SW groundswell provided fun waves both Saturday and Sunday on the Mid Coast. A bit slow to start off Saturday but pulsing nicely into the afternoon, similar Sunday.
Today the South Coast is much better and cleaner with the swell easing back to 2-3ft with an offshore breeze, tiny on the Mid Coast.
This week and weekend (Jan 14 – 19)
Make the most of today as come tomorrow the swell will be on the way out along with onshore S/SE winds across the South Coast, E/SE on the Mid but tiny.
Later in the day a new pulse of W/SW groundswell may be seen, but it'll be Wednesday that we'll see the size and from a more SW'ly direction.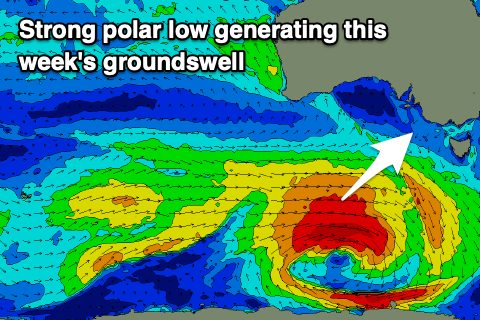 This swell was generated by a strong polar low that's currently south of WA, forming as a tropical depression in the southern Indian Ocean was absorbed into the westerly storm track over the weekend.
A fetch of W/SW gales have been and will continue to be generated in our swell window yesterday and today, with the low weakening into this afternoon.
Looking at the expected size and a late kick may be see tomorrow to 1ft to maybe 2ft on the Mid Coast, 2-3ft down South with a peak in size Wednesday to 1-2ft and 3-4ft respectively.
Unfortunately winds will become unfavourable for both coasts on Wednesday with a fresh S/SW'ly, possibly S'ly early on the Mid Coast.
Stronger S/SE winds are due on Thursday but the swell will be tiny on the Mid Coast, poor and onshore down South with an increase in S/SE windswell.
As talked about last update, a series of strong and blocking highs will move in through our swell windows over the coming period, bringing persistent and strong S/SE winds and poor quality windswells to the South Coast while there'll be some tiny pulses of W/SW swell on the cards but only to 1-1.5ft or so (Friday). You'll be better off further afield if you can.
This pattern may break down later next week, but more on this Wednesday.