Wednesday, 4 December 2019
Slow drop in size with varying winds
UNLESS YOU LIVE AT THE BEACH, PLEASE DON'T TRAVEL TO SURF
COVID-19 is changing the way we think about surfing. Travelling to the surf now means you're putting an unnecessary strain on the resources of small regional communities. So, please stay home. If you live near the beach and want to surf, please maintain a healthy spacing in the lineup, don't hang in the carpark, and keep your surf sessions shorter to allow others the opportunity to get wet. Above all, stay happy, healthy and look out for one another.
South Australian Forecast by Craig Brokensha (issued Wednesday 4th December)
Best Days: South Coast tomorrow morning, South Coast swell magnets Sunday morning, possibly dawn Monday South Coast swell magnets desperate surfers
Recap
Workable waves in protected spots yesterday with solid sets out of the south and a westerly breeze, cleaner today with a slight drop in energy, but breaking way off Middleton.
The Mid Coast was a choppy 2ft yesterday, a little cleaner but low in quality today and back to 1-2ft.
This week and weekend (Dec 5 - 8)
The strongest of the cold fronts linked to this current period of activity moved through yesterday and overnight, producing today's waves, with the swell due to drop slowly from here. We've still got a few good days to pick from, with tomorrow morning providing the cleanest and best conditions.
Currently, a front is still generating a fetch of strong W/SW winds in our southern swell window, south-west of Tassie, moving out of our swell window this afternoon.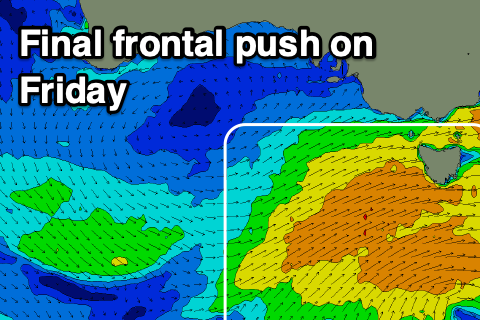 This will slow the easing trend tomorrow, with Middleton due to drop from the 3-4ft range, tiny on the Mid Coast.
A further drop in size is expected on Friday morning back to 3ft off Middleton, while our final pulse of S/SW swell for Saturday is still on track. This will be produced by one final front projecting a fetch of strong W/SW winds up towards Tassie tomorrow evening and Friday, with the S/SW swell off this source due Saturday, keeping Middleton around 3ft, easing back from 2ft+ on Sunday.
The Mid Coast looks to become tiny with the swell all coming from the south, with average 1ft sets.
Looking at the local winds and tomorrow should be nice and clean in protected spots again down South with a W/NW breeze, shifting SW late morning, bumpy and onshore on the Mid Coast.
Friday will be average with S/SW winds persisting across the South Coast as a high moves in from the west, S/SE on the Mid but tiny.
Onshore SE-E/SE winds unfortunately hang in Saturday, while Sunday morning is the pick of the weekend with a morning NE breeze favouring the swell magnets as the S/SW swell eases.
Longer term there's still nothing significant on the cards for next week with a larger blocking high due to move in early next week, bringing persistent winds from the southern quadrant all next week. More on this Friday.