Friday, 26 December 2014
Swell galore, with windows of cleaner conditions
South Australian Forecast (issued Friday 26th December)
Best Days: Workable waves Saturday and Sunday morning down South, Monday and Tuesday mornings in protected locations down South
Recap
The South Coast offered fun waves in protected locations yesterday morning with an early W/NW'ly before onshores kicked in mid-morning. The Mid Coast was average and messy with the onshore winds.
Today the South Coast is larger but an absolute write-off with strong onshore winds. The Mid Coast eased back from 1-2ft at dawn with improving conditions under a light SE'ly. This didn't last long though and conditions are now deteriorating with a fresher southerly breeze.
This weekend (Dec 27 - 28)
Today's swell will ease back through tomorrow and there won't be too many decent surfing options. Winds are expected to remain onshore and light to moderate from the S/SE across the South Coast tomorrow morning. It won't be as strong as the last few days so keen surfers should find some OK waves around the Port Elliot and Middleton stretch.
The Mid Coast will be clean and offer tiny 1ft waves for beginners.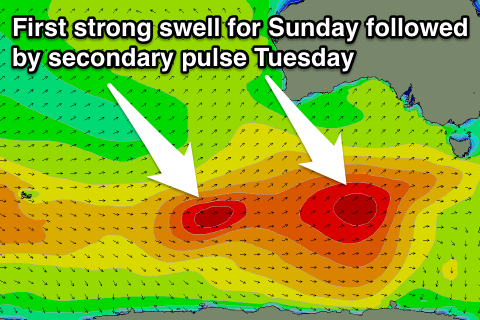 Our strong pulse of S/SW groundswell for Sunday is tracking nicely but again winds will be the main issue. A strong polar frontal progression has developed east of Heard Island and is now well south of WA, aiming a broad fetch of W/SW gales towards Tassie.
This should produce a strong S/SW groundswell for us, building through Sunday from 3ft or so at Middleton and 3-4ft at Waits to 4-5ft and 6ft respectively by dark. The Mid Coast is only expected to see 1-1.5ft sets through the late afternoon due to the southerly swell direction.
Winds will be lighter Sunday and from the E/SE creating workable conditions down South during the morning before winds swing more S'ly through the day.
Next Monday onwards (Dec 29 onwards)
Monday morning should offer a good window of clean waves in protected locations down South with an easing swell from Sunday. Fresh and gusty W/NW winds are due to persist until around 10am before a W/SW tending SW change moves through. Middleton should be easing from 3-4ft with 5ft sets out at Waits, while the Mid is expected to see an average 1-2ft of windswell developing into the afternoon.
This onshore change will be linked to a secondary polar frontal system moving in on the tail of the strong progression generating Sunday's swell, with a secondary fetch of W/SW gales being aimed towards the south-east of the country.
This should generate a secondary strong SW groundswell arriving later Monday and peaking Tuesday morning.
Size wise, Middleton should hold around 3-4ft+ with 5-6ft sets at Waits and Parsons Tuesday morning, while the Mid should offer 2ft sets.
A slow drop in size is then due through the afternoon and further through Wednesday and Thursday.
Winds will be average though with an early and short-lived W'ly due to give into a S/SW change Tuesday. We may see winds tend variable Wednesday morning ahead of a weak change through the day followed by S/SE winds Thursday.
Longer term there's nothing too major on the cards therefore make the most of the windows of workable conditions down South and on the Mid.