South Coast Saturday, Mid Coast Sunday arvo and early Monday
South Australian Forecast (issued Friday 8th July)
Best Days: Saturday down South, Sunday afternoon and Monday morning on the Mid, South Coast each morning next week for lumpy/peaky waves
Recap
The South Coast continued to pump yesterday with a new SW groundswell and offshore tending variable winds. There were plenty of options from Middleton to the Port Elliot stretch, while the Mid saw tiny 1ft waves which pulsed a little with the incoming tide.
Today the swell has dipped back a touch down South but conditions are again great with a light offshore breeze, while the Mid is persisting in the tiny 1ft range. The surf should remain clean and around the same size all day down South as winds persist from the N/NW and a new S/SW groundswell fills in, while a slight wobble lump is due across the Mid.
This weekend and next week (Aug 9 - 15)
A S/SW groundswell due to fill in through the middle of the day across the South Coast today should ease overnight and further through tomorrow from 2-3ft across the Middleton stretch, while there should be the odd bigger set at Waits and Parsons early. Offshore N/NW winds will continue to create clean conditions before swinging more NW through the afternoon.
There's been no real change to Sunday's kick in large SW groundswell with the polar frontal progression that started west of Heard Island on Monday now positioned under WA, with it expected to push up and into the south-east of the country on Sunday.
This will bring an onshore change to both coasts with fresh S/SW tending S/SE winds creating poor conditions down South but improving surf on the Mid into the afternoon/evening.
Size wise Middleton should build to 5-6ft through the afternoon with 8ft sets at Waits but there'll be no options for a quality wave. The Mid however should see 2ft sets with fun waves into the evening.
A peak in size is due overnight ahead of a slow drop through Monday, becoming more pronounced through Tuesday.
Winds will be offshore for the Mid with an easing and inconsistent 2ft of swell while the South Coast should see light E/NE winds developing through the morning, improving conditions but there'll still be a lot of lump and wobble from overnight onshores.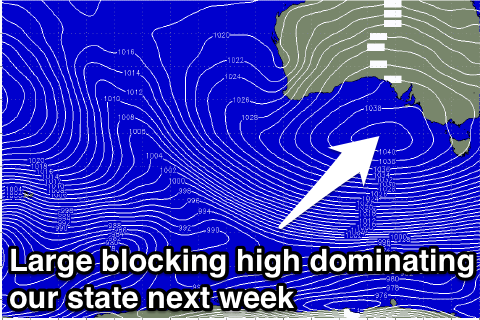 Unfortunately through most of next week we'll see E'ly winds persisting across the state due to a slow moving ridge of high pressure pushing in from the west.
This will continue to create less than ideal and peaky conditions down South with easing levels of S'ly swell Tuesday and Wednesday.
A new S/SW groundswell is due into later Wednesday, peaking Thursday, generated by strong but unfavourably aligned polar activity around the bottom of the blocking high.
This should kick up 3-5ft waves at Middleton with 4-6ft sets at Waits but winds will continue from the E/NE to SE.
Friday should finally see winds swing around to the NE through the morning with a dropping swell.
Longer term there's nothing too major on the cards unfortunately so make the most of tomorrow's waves down South and the cleaner surf on the Mid later Sunday and Monday morning. Have a great weekend!