Large swell finally on the way
Hawaii North Shore, Micronesia and PNG forecast by Craig Brokensha (issued on Thursday 21st February)
This week and next (Feb 22 – Mar 1)
Hawaii: Our unseasonal run of swell and winds should come to an end finally next week, and it looks to be in the form of an oversized long-period NW groundswell.
Firstly we'll see a relatively weak front push through the blocking pattern we've seen the last few weeks on the weekend, projecting a weak fetch of strong N/NW winds through our swell window. Only a weak 4-5ft+ pulse is due next Tuesday with average N'ly winds, but of greater importance is the NW groundswell to follow.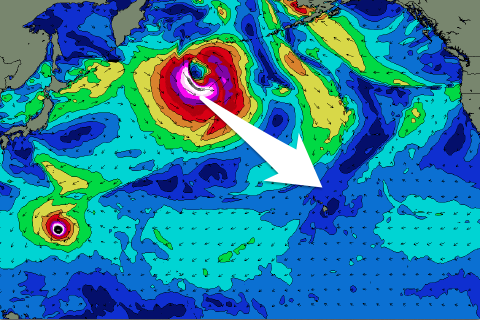 A much stronger low will develop behind this initial weak front, with a fetch of storm to hurricane-force W/NW winds moving through our far north-western swell window, stalling south of the Aleutians while continuing to produce a slightly weaker fetch in our northern swell window.
What should result is an oversized long-period NW groundswell for next Wednesday, building to an easy 10ft+ across the marquee reefs though winds will still pose a problem and be gusty from the N tending NE.
The N/NW groundswell should fill in Thursday and provide a little more size again with sets to 12ft+ and with better E/NE trades, but we'll have another look at this Tuesday.
Longer term Typhoon Wutip is likely to be absorbed into the storm track, generating an oversized swell the following week, but more on this next update.
North Shore Forecast Graph
North Shore WAMs
Micronesia: We've got weakening levels of trade-swell across the region with no decent N'ly swell but a fun signal of SW energy from the northern flank of Typhoon Wutip. This won't provide any considerable size over 3ft to possibly 4ft but will swing more W in direction and persist into the weekend and early next week. With E'ly trades there should be some fun options across the exposed west facing reefs.
The strong low generating Hawaii's swell will form a little late for us and no major size is unfortunately expected, so make the most of the swell off Wutip.
Palikir Pass Forecast Graph
Palikir Pass WAMs
Papua New Guinea: Wutip has been generating large swell out of the north but with it clearing slowly to the east we should see the size starting to decrease over the coming days with a small W'ly windswell also in the mix.
This will be along with small amounts of NE trade-swell to 2ft to occasionally 3ft that will slowly ease through next week.
Winds should improve tomorrow and tend W/SW with easing sets from 4-5ft out of the N'th, more variable from the weekend as the swell drops from 3ft+ or so. Longer term there's nothing too significant on the cards at this stage.