Good reinforcing NW groundswells through this week
Hawaii North Shore, Micronesia and PNG forecast by Craig Brokensha (issued on Tuesday 15th January)
This week and next (Jan 16 - 25)
Hawaii: The weekend'x XL groundswell eased back through yesterday with solid pumping waves for day two of the Da Hui Backdoor Shootout, smaller again into this morning for day three. A new reinforcing NW groundswell started to kick in through the afternoon, generated by a secondary strong front wrapping around the parent low linked to the weekend's just past swell event.
This swell should ease into tomorrow morning, though a third and strongest reinforcing NW groundswell swell will fill in later in the day, peaking overnight and easing through Wednesday.
Size wise tomorrow morning looks to come in around 10-12ft, easing a touch through the day ahead of the kick in new swell through the afternoon, pushing possibly a touch over the morning's size, with easing 10-12ft waves through Wednesday
Light morning offshore winds will create clean conditions tomorrow morning ahead of weak afternoon sea breezes, while Wednesday looks great across selected breaks with a developing Kona wind (S'ly) though more so later in the day.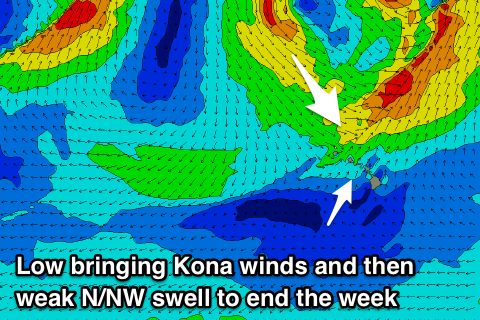 Thursday will become more wind affected with stronger Kona S/SW winds, giving into an afternoon W change and then N/NE winds on Friday.
Size wise Thursday should see easing surf from 6ft to possibly 8ft at magnets early, while a weak N/NW windswell will fill in Friday behind Thursday afternoon's change.
No major size or power is expected with raw and bumpy 5-6ft or so.
The swell is due to ease back through the weekend as winds improve and swing E/NE and then S/SE on Sunday as another change moves through.
Longer term we may see a moderate to large sized mid-period NW swell for Tuesday/Wednesday followed by a larger groundswell later week. More on this Thursday though.
North Shore Forecast Graph
North Shore WAMs
Micronesia: Good waves across our north facing reef passes from the weekend, with the size backing off slowly through yesterday and today.
A low point in swell is due tomorrow morning ahead of a renewal of N'ly groundswell into the afternoon and more so Thursday/Friday.
This swell was generated off the backside of the low mentioned above and should provide building sets to 4-5ft+ by dark tomorrow with Thursday coming in more around 6ft, if not the odd bigger one late in the day, easing from 5-6ft Friday.
Fresh and gusty E/NE trades will create favourable conditions throughout the swell event and as it eases through the weekend.
Next week a new mid-period N/NW swell may provide a fun increase in swell next Tuesday though the second groundswell looks better and large late week, but more on this Thursday/Friday.
Palikir Pass Forecast Graph
Palikir Pass WAMs
Papua New Guinea: Some fun though inconsistent N'ly groundswell is breaking across the region, though W/SW-SW winds are limiting surfing options a touch.
A mix of N'ly groundswells should persist at an inconsistent 3ft+ tomorrow, easing temporarily into Thursday as winds also back off.
A better pulse of N'ly groundswell should then be seen into Friday with sets to 3-5ft, holding most of Saturday and then easing slowly Sunday. Variable winds are due each morning ahead of afternoon sea breezes, tending more W/SW into early next week.
Longer term there is no significant trade-swell on the cards so try and maximise the surf time with these N'ly swell pulses.