XXL swell inbound for Hawaii
Hawaii North Shore, Micronesia and PNG forecast by Craig Brokensha (issued on Tuesday 9th January)
Best Days: Every day across Hawaii (experienced surfers only Wednesday/Thursday and over the weekend and early next week - Micronesia Thursday and Friday - PNG - later this week onwards
This week and next (Jan 10 - 19)
Hawaii: The weekend's good W/NW groundswell has eased back into this morning leaving fun surf in the 6ft range, smaller this afternoon.
We'll continue to see the surf ease into tomorrow ahead of two large NW groundswells Wednesday and Thursday.
These swells have been generated by the same low, with an initial tight fetch of severe-gale to storm-force W/NW winds (producing Wednesday's increase), followed by a secondary projection of W/NW gales towards us today and early tomorrow.
We'll see Wednesday's increase providing strong 8ft sets across the North Shore on Wednesday, while Thursday's looks larger, peaking through the afternoon to 10-12ft+ before easing slowly Friday from the 10ft+ range.
Our current E'ly trades will weaken and tend variable over the coming days, light offshore each morning ahead of afternoon sea breezes, similar into the weekend.
Looking into the weekend though and we're set to see an XXL swell developing for the Hawaiian Islands.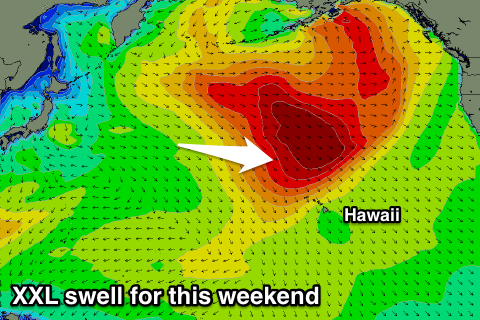 This won't be a classic solitary strong low developing in our swell window, but more so back to back fronts setting up active sea states for the following fronts to move over as they project closer towards the islands.
An initial fetch of gale to severe-gale W/NW winds developing between Japan and the Kamchatka Peninsula will project slightly east-southeast, generating a large long-period NW groundswell on its own, but a secondary front projecting a similar fetch of NW winds down towards us on top an active sea state will generate an XXL swell for Sunday morning.
We should see a rapid and XXL increase in size Saturday from the initial swell, reaching 20-25ft by dark, with Sunday morning likely to top this and come in at 25-30ft. As stated earlier, winds are due to be variable, opening up the outer reefs for some big wave paddle/tow action. More on this Thursday.
North Shore Forecast Graph
North Shore WAMs
Micronesia: Easing surf from the weekend's large N/NW groundswell pulse, with building levels of trade-swell due through this week, peaking through Friday and Saturday though with poor and strong E/NE winds across exposed breaks.
One final N'ly groundswell pulse is expected Thursday, generated by the early stages of the low generating Hawaii's large swells this week. We should see reef passes exposed to the north building back to 4ft or so through Thursday, easing from 3ft+ Friday morning.
The XXL swell expected across Hawaii on the weekend will be generated too late in our swell window and too far east, so no size is due off this unfortunately. Longer term there's nothing too significant on the cards, so make the most of the swell due late week.
Palikir Pass Forecast Graph
Palikir Pass WAMs
Papua New Guinea: The N'ly groundswell seen through the last few days will continue to fade through tomorrow, back from 2ft to possibly 3ft early. A small kick in new N'ly groundswell is due Friday afternoon and Saturday to 3ft or so, but some better NE trade-swell will be on the build in any case.
This will be generated by a broad and strengthening fetch of E/NE trades developing through this week and and persisting through most of next week.
We should see the swell starting to build from Thursday and more so Friday, reaching 3ft+ later in the day and to a further 4-5ft through the weekend, persisting all of next week.
Winds look great with variable breezes for the most part, with E/SE trades mid-late next week.