Thursday, 22 September 2016
Moderate swells for Bali, with poor persistent N/NW winds across the Ments
Bali and Mentawais forecast​​​​​​ by Craig Brokensha (issued Thursday 22nd September)
Best Days: Bali Friday and Sunday through most of next week and onwards, protected breaks out of the NNW winds in the Ments over the coming period
This week and next (Sep 23 - 30)
Bali: A good but very inconsistent S/SW groundswell should be breaking across the region today with 6-8ft sets at exposed breaks to the south swell.
A drop in size is expected overnight, further through tomorrow from the 5-6ft range, down again into Saturday.
Weak E/SE trades tomorrow will strengthen a touch from Saturday, easing off again into Tuesday afternoon.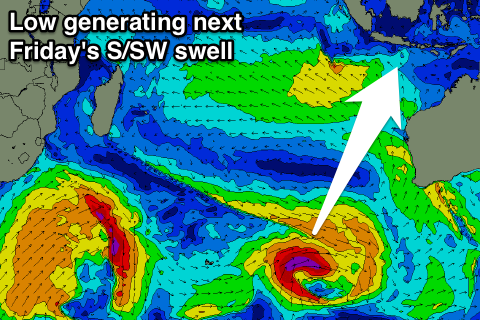 Our late pulse of S/SW groundswell for Saturday and the stronger kick for Sunday are still tracking along with the mid-latitude frontal systems generating these swells now weakening while pushing up across the West Australian coast.
The best pulse for Sunday afternoon should kick to 6ft+ across exposed breaks, easing back into Monday and and further into the middle of the week.
An inconsistent new S/SW groundswell is due to kick later Wednesday and peak Thursday morning across the region, produced by a strong but short-lived polar front firing up south-west of WA this evening and tomorrow.
Small inconsistent surf to 4-5ft is expected across exposed breaks later Wednesday and early Thursday, easing into the afternoon.
A stronger pulse of S/SW groundswell should come in larger on Friday, produced by a tight and intense low firing up further north and closer to WA. A good 6ft to possibly 8ft S/SW groundswell is due for Friday morning from this low, easing through the weekend.
Longer term our larger SW groundswell for the start of October is still on track with a vigorous polar frontal progression due to fire up high in the Indian Ocean south-east of Madagascar.
At this stage we'll be looking at strong surf in the 8ft range, but more on this Tuesday.
16 day Bali Forecast Graph
16 day East Java Forecast Graph
16 day Sumbawa Forecast Graph
Ments: The take home message for the Mentawais is that fresh and gusty N/NW winds will restrict surfing options to protected south-east facing breaks through the entire period right up until Monday the 3rd of October as this stage.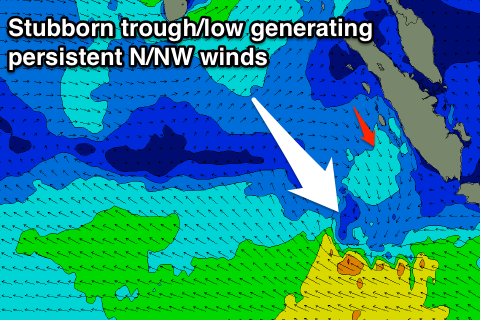 This will be related to a stationary and deepening surface trough to our south-west, directing persistent N/NW winds across the islands.
Swell wise, a good kick in S'ly swell is due today, easing back tomorrow from 4-5ft or so tomorrow morning, further into Saturday.
The S/SW groundswell for Sunday afternoon and Monday looks to come in at 5-6ft across exposed south facing breaks, easing rapidly into Tuesday.
Smallish pulses of background S/SW and S/SE trade-swell are due from Tuesday afternoon through until the next weekend.
Longer term we look towards the SW groundswell for the week starting the 3rd, but more on this in the next update.
16 day Mentawai forecast graph
16 day Nias forecast graph
16 day South Sumatra forecast graph