Monday, 5 May 2014
Fun waves Thursday ahead of a tiny weekend
Victoria Forecast by Craig Brokensha (issued Monday 5th April)
Best Days: Early tomorrow on the Surf Coast, Thursday, Friday on the Mornington Peninsula, next Monday and Tuesday
Recap
The deepening low pressure system moving across us Friday night continued to stall just west enough on Saturday to see light offshores persisting across the Surf Coast during the morning. The Mornington Peninsula was also OK with a lighter and more variable breeze but with a strong new swell, was too big for the beaches. The Surf Coast offered clean 3-5ft waves before the change moved through during the day and really strengthened into the afternoon, creating poor conditions.
Into Sunday a mix of easing groundswell and new S'ly windswell along with strong S/SW winds left only the most protected points and bays with clean waves.
Today winds have swung back to the NW ahead of an approaching front creating clean conditions on the Surf Coast with 2-3ft of swell while the Mornington Peninsula is a bumpy 4-5ft.
This week (May 5 – 9)
A late increase in new swell is due this afternoon along with a late change and this will be followed up by a larger increase through tomorrow. The source of this swell is a deepening low pressure system which has formed to out south-west, but is now expected to push more into Tassie rather than through our swell window.
Still, a fetch of gale to severe-gale SW winds should be aimed through our southern swell window, generating a large S/SW groundswell that should build to 5-6ft tomorrow afternoon on the Surf Coast and 6-8ft+ on the Mornington Peninsula.
Winds tomorrow in general are expected to be fresh from the SW, but Torquay should see an early period of W'ly winds. Wednesday will be a write off with moderate to fresh but easing S/SE winds and an easing swell.
Thursday is looking better as winds go around to the NE, favouring the Mornington Peninsula and a reinforcing long-range SW groundswell moves in, keeping 2ft to possibly 3ft sets hitting the Surf Coast and 4-5ft waves on the Mornington Peninsula.
Friday will be small but clean with fresh N'ly winds due to persist all day.
This weekend onwards (May 10 onwards)
The surf will bottom out on Saturday under freshening N/NW winds, leaving the western end of the Mornington Peninsula with the biggest and best waves. The Surf Coast will become tiny and ideal for beginners.
Into later Sunday and more so Monday a series of W/SW groundswells are due. The first will be moderate in size and from our medium-range swell window, generated by a cold front dipping south-east from WA and then generating a fetch of strong to gale-force W/SW winds through and south of the Bight.
This should provide 2-3ft waves on the Surf Coast Monday with 5-6ft sets on the Mornington Peninsula Monday morning, but into the afternoon, a new long-range and very inconsistent but strong W/SW groundswell is due.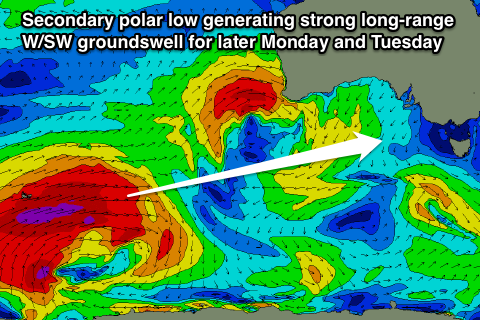 The source of this swell will be a series of strong polar fronts firing up one after the other in our far swell window in the Heard Island region.
An initial broad fetch of severe-gales will setup an active sea state for a secondary polar low to piggyback over the top of, generating an additional fetch of severe-gales and large W/SW groundswell (pictured right).
Due to the large distance between the source of the swell and our coasts, there'll be a lot of swell decay and loss in consistency, but when the sets do arrive, they'll be strong.
Size wise, the swell should kick strongly later Monday to 3ft across the Surf Coast and 6ft+ on the Mornington Peninsula ahead of a peak in the 3-4ft and 6-8ft range Tuesday morning.
Winds look great for this swell with a fresh N'ly tending N/NW breeze, favouring lots of locations across the state. Have a check back here on Wednesday though for confirmation on the timing and local winds surrounding this swell.