Fun surf developing for the South Coast
South Australian Surf Forecast by Craig Brokensha (issued Friday March 11th)
Best Days: South Coast for the keen tomorrow morning but more so Sunday, South Coast Monday, Tuesday and Wednesday mornings, Mid Coast next weekend onwards
Features of the Forecast (tl;dr)
Easing mid-period SW swell tomorrow with light E/NE tending S/SE winds
New S/SW groundswell Sun AM with N/NE tending weak E/SE winds, easing Mon with NE tending stronger SE winds
Reinforcing mid-period S/SW swell Tue with N/NE tending S/SE winds, easing Wed with similar winds
New, mid-period W/SW swell building late next Fri, peaking Sat with morning SE winds
Recap
A slight improvement in conditions across the South Coast yesterday and this morning with a shift in winds to the east and a mix of windswell and mid-period swell in the 2-3ft range across Middleton. The Mid has been tiny and only suitable for beginners.
This weekend and next week (Mar 12 - 18)
A temporary low point in swell is due tomorrow along with a further improvement in local winds, shifting light E/NE through the morning ahead of afternoon sea breezes.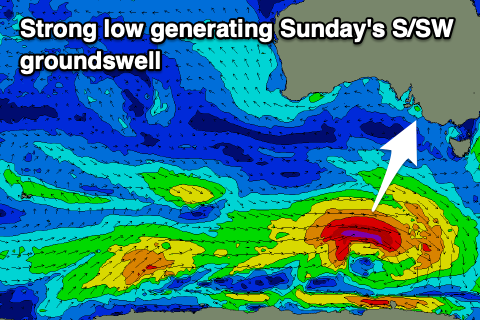 Middleton will likely be a peaky 2ft with bigger sets at the more exposed beaches, tiny to flat on the Mid Coast.
Come Sunday our new S/SW groundswell should be in the water, generated by a strong polar low that's formed under the country yesterday and is tracking south-west of Tasmania today. A fetch of gale to severe-gale W/SW winds are being generated and this should provide a good 3-4ft of S/SW groundswell across Middleton Sunday morning, easing into the afternoon and down from 2-3ft on Monday morning. The Mid will remain tiny to flat owing to the swell's southerly direction.
Conditions should be great Sunday morning with a light N/NE offshore ahead of weak E/SE sea breezes, NE Monday morning ahead of stronger sea breezes.
A small pulse of reinforcing S/SW swell is due Tuesday from a weaker, trailing fetch of W/SW winds behind the strong low, keeping Middleton around 2-3ft under a great N/NE offshore breeze through the morning.
We'll see the surf fading through Wednesday and bottoming out Thursday with morning NE winds on the former and a weak change Thursday as a trough moves in. This trough will be followed by a high, swinging winds around to the south-east through next weekend and early next week along with some new W/SW swell energy.
We'll see a strong progression of Southern Ocean storms developing south-west of Western Australia, firing up towards that state and through our western swell window mid-late next week, generating swell from next weekend. More details on this in Monday's update. Have a great weekend!