Monday, 27 April 2020
Clean, easing swell before turning onshore and poor
South Australian Forecast by Craig Brokensha (issued Monday 27th April)
Best Days: Tomorrow South Coast, Wednesday morning keen surfers South Coast
Recap
Great surf on the Mid Coast Saturday morning with clean 2ft+ waves ahead of a bit of bump into the afternoon though cleaning up again later, easing back to 1-1.5ft yesterday with bumpy conditions.
The South Coast was fun and clean Saturday with options from Middleton to Waits and Parsons, a bit smaller yesterday morning as we fell in between swells.
A new mix of SW groundswell and mid-period SW swell filled in later yesterday and have peaked this morning with clean 3-5ft waves from Middleton to Goolwa, 2ft on the Mid Coast. We'll see weak sea breezes this afternoon but the swell should hold most of the day, easing from tomorrow.
This week and weekend (Apr 28 – May 3)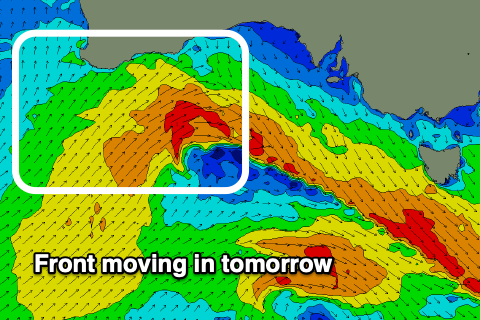 We'll see our current swell easing over through tomorrow across both coasts, and conditions will be best down South with moderate to fresh N/NE tending N/NW-N winds. Size wise Middleton should ease back from 3ft+, 1-1.5ft mostly on the Mid with the odd 2ft set on the swell magnets.
We've got a new pulse of W/SW groundswell due Wednesday, followed by a mid-period and bigger W/SW swell through the afternoon and Thursday morning.
The groundswell was generated yesterday afternoon and this morning by a good fetch of W/NW gales under WA, and we should see the Mid kick back to 2ft Wednesday morning, with 3ft+ sets across Middleton.
The larger W/SW swell for the afternoon and Thursday will be produced by a secondary front projecting right under WA and through the Bight this evening and tomorrow, initially gale-force but then easing back to strong.
We'll likely see the Mid Coast kick to 2-3ft later in the day but more so Thursday, while the swell won't be ideal for the South Coast and likely only 2-3ft across Middleton. There'll be some new localised and stormy windswell out of the S on the build in any case as a deep and powerful low forms from the front, off the West Coast of Tassie.
But coming back to the local winds and Wednesday unfortunately looks average on the Mid with moderate to fresh W/NW winds, W/NW tending W/SW down South, favouring protected spots.
Thursday doesn't look any better with strong S/SW winds due to create choppy conditions across both coasts.
The source of the onshore wind will be the strong low, with it bringing cold and wet weather to the state and a moderate sized and poor quality S'ly swell as winds aimed in our swell window are mostly strong and not gale-force.
The S'ly swell should build Thursday and peak Friday to 4-5ft+ across the South Coast, while the Mid Coast will see easing levels of W/SW swell from 2ft Thursday.
Unfortunately due to the slow moving nature of the low and an additional front pushing into Victoria on Saturday, winds will be poor for all this swell event, strong from the SW Saturday, easing into the afternoon, S/SW-S on Sunday. Monday should become cleaner but we'll be tiny waves fading on the Mid Coast and easing surf from 2-3ft down South.
We'll have a closer look at the timing, sized and any changes to the onshore winds on Wednesday. Make the most of tomorrow in the meantime.