Great swell to end the week, with a reinforcing pulse for early next week
Bali and Mentawais forecast​​​​​​ by Craig Brokensha (issued Tuesday 21st August)
Best Days: Friday Ments, Saturday through Monday, Wednesday onwards
This week and next (Aug 22 – 31)
Bali: A good increase in new SW groundswell later in the day Sunday, (captured by Chris Lovell below) peaking through yesterday and now on the ease across the region.
The low point in swell tomorrow is still expected, as is the new long-period and inconsistent SW groundswell for Thursday. This swell is the precursor to a much larger swell later in the week, but was generated in our far swell window south-east of South Africa last week.
Some mid-period energy is expected to be in the mix as well, with 4-5ft surf due across magnets Thursday.
Moving onto our larger and more powerful long-period S/SW groundswell, and a deep and expansive low formed west of Heard Island on the weekend, generating a broad fetch of severe-gale to storm-force W/SW winds while moving slowly east.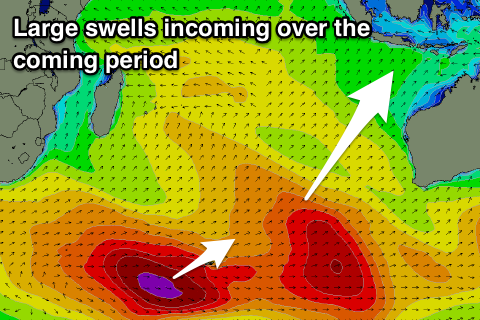 The low has since broken down leaving the large long-period swell to head towards us.
The long-period forerunners are due to arrive overnight Thursday with the swell building strongly into the afternoon, with an upgrade in size from last Thursday's update. Swell magnets should reach 8ft+ by dark, easing off from the 8ft range on the sets Saturday morning, smaller into Sunday.
Looking at the expected winds over this period and moderate to fresh E/SE trades will continue, persisting all of next week along with lighter and more variable winds early each morning with local land breezes.
As touched on last update, another strong but slightly smaller S/SW groundswell is due on Monday across the region, produced by a good pre-frontal and post-frontal fetch of W/NW and W/SW gales along a similar track to the storm before.
The swell should build later Sunday and peak Monday in the 6ft range across swell magnets before easing off slowly into Tuesday and Wednesday.
Longer term we may see a new large but very acute S'ly swell for later in the week from a strong but late forming frontal system south-west of WA. More on this Thursday.
16 day Bali Forecast Graph
16 day East Java Forecast Graph
16 day Sumbawa Forecast Graph
Ments: We're also seeing easing surf across the region today, but the new long-period and inconsistent S/SW groundswell for tomorrow afternoon and Thursday will bring wave heights up again.
An increase to 4-6ft is due by dark, holding a similar size through Thursday morning before easing later.
We then look at the larger long-period S/SW groundswell due Friday, with a late increase in size likely to be seen on Thursday ahead of peak the next morning to a strong 8ft on the sets, easing off later in the day and more so from 6ft+ on Saturday morning, smaller Sunday.
The secondary pulse for Monday will be a bit smaller across our region, with the main swell producing W/NW fetch not being well aimed in our swell window. As a result we're only expected to see sets around the 5ft range, easing into the middle of the week.
For the rest of the period we may see some mid-period S'ly swell from weaker fetches to our south, but more on this Thursday.
Coming back to the local winds, and a surface trough running east-west across the region will bring variable winds to most spots tomorrow (SE across the southern Ments and NW across the north) with the models diverging on whether it will drift south, bringing NW winds to the region on Thursday, Friday and Saturday. We'll have to review this on Thursday as the models are divergent even a couple of days out.
Either way winds look to revert back to the SE into next week.
16 day Mentawai forecast graph
16 day Nias forecast graph
16 day South Sumatra forecast graph