N'ly swell mid-week, better N/NW groundswell for the weekend
Hawaii North Shore, Micronesia and PNG forecast by Craig Brokensha (issued on Tuesday 19th December)
Best Days: Every day over the coming period
This week and next (Dec 20 – 29)
Hawaii: Today's easing NW groundswell will continue to fade through tomorrow, only to replaced by some large N'ly swell through tomorrow and more so Wednesday.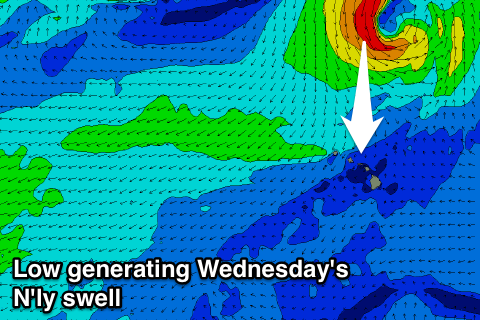 Currently a surface trough squeezing against a strong high positioned to our north is aiming a fetch of strong to gale-force N/NE winds through our northern swell window.
We'll see this trough form into a low, maintaining strong to gale-force N'ly winds to our north before the system retreats northwards later this week.
A strengthening N'ly groundswell will build through tomorrow and peaking Wednesday to 6-8ft+ across exposed breaks on the North Shore though with poor N/NE winds.
A slow drop in swell is then due Thursday and Friday as less than ideal N/NE winds persist.
The weekend is looking better as E/NE trades develop Saturday along with a large new N/NW groundswell.
A strong storm is forecast to develop south of the Aleutian Islands later this week, projecting a broad and elongated fetch of gale to severe-gale N/NW winds towards us.
We should see a large N/NW groundswell produced, building through Saturday and reaching 8ft by dark and peaking Sunday morning in the 10ft range.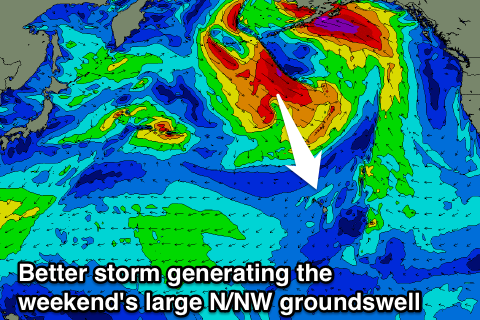 Winds on Sunday will be great through the morning, but a SW'ly is due into the afternoon as a secondary low pushing down towards Hawaii interferes with the local trades.
This low is forecast to stall in our north-western swell window while strengthening, aiming a broadening fetch of gale to severe-gale N/NW winds towards us.
An secondary oversized N/NW groundswell is expected to build through Tuesday and peak Wednesday morning in the 12ft+ range though with what looks to be average winds. We'll have to have a closer look at this Thursday though.
North Shore Forecast Graph
North Shore WAMs
Micronesia: Across Micronesia we're looking out for N'ly groundswells to hit the exposed reef passes that are offshore in the E/NE trades. These swells usually originate in the vicinity of Japan, and through this forecast period there's nothing of the sort on the cards until possibly mid-late next week.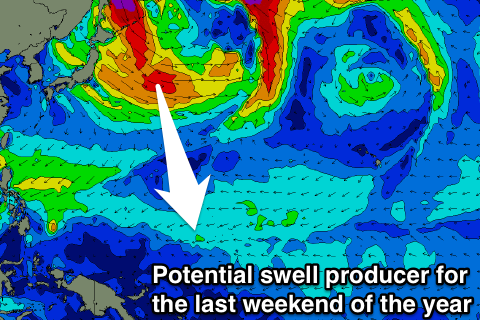 We should see a strong storm forming off Japan, generating a moderate to large sized N/NW groundswell for the last weekend of the year, but we'll keep a close eye on this.
Other than this, we've got a steady supply of E/NE trade-swell due across the region, though with poor and gusty E/NE winds, leaving no decent surfing options.
Palikir Pass Forecast Graph
Palikir Pass WAMs
Papua New Guinea: Current fresh W/NW winds and W/NW windswell are due to ease back through tomorrow, further into the end of the week as a tropical depression in the region weakens.

We'll then see some fun NE trade-swell over the coming week and weekend building through Thursday and Friday to 3-4ft at exposed breaks, before easing temporarily Saturday.
Trades to the east of Micronesia will strengthen and broaden later this week and remain established into early-mid next week, generating some stronger NE trade-swell from Sunday and more so Monday. We should see surf to 3-4ft+ with variable winds from the W each morning ahead of sea breezes.