Large N/NW swell this weekend, with an XL swell mid-next week
Hawaii North Shore, Micronesia and PNG forecast by Craig Brokensha (issued on Thurssday 21st December)
Best Days: Saturday, Sunday, Monday and Tuesday North Shore, Micronesia from next weekend, PNG all days
This week and next (Dec 22 – 29)
Hawaii: A mix of moderate to large N'ly swell today with less than ideal winds. We'll see the swell start to ease through tomorrow, dropping from 6ft to occasionally 8ft on the sets at breaks exposed to the north swell though with stiffer N/NE winds, smaller Friday as winds back off a little.
As talked about on Tuesday we'll see conditions improve over the weekend as E/NE trades develop along with a large new N/NW groundswell.
This groundswell will be produced by a strong front projecting a good fetch of NW gales from the Aleutian Islands down towards us over the coming days.
The groundswell should arrive Saturday afternoon and build to 6ft+ late in the day, peaking Sunday in the 8ft range on the sets.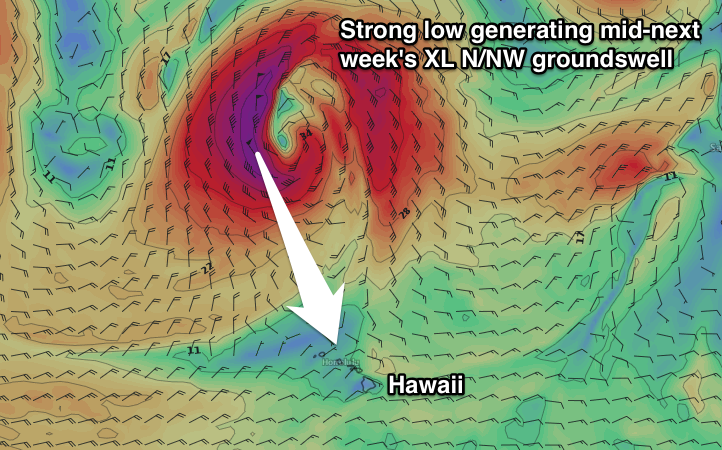 A drop in size is expected later Sunday, more so from 5-6ft+ Monday morning.
Our larger N/NW swell for mid-week is also still on track, produced as a deep and powerful low forms to our north, stalling while aiming a fetch of severe-gale to storm-force N/NW winds towards us before slowly retracting north.
An XL long-period N/NW groundswell will be generated, with it due to kick later Tuesday, reaching 8-10ft by dark and peaking Wednesday morning to 12-15ft. Winds will unfortunately deteriorate though as ridge of high pressure moves in from the North West, bringing poor NW winds later Tuesday and gusty N/NE winds Wednesday.
Improving conditions are due as the swell eases, cleanest Friday though back to the 6ft+ range.
Longer term we're due to see a flurry of distant but strong storm activity off Japan, generating less consistent but good sized W/NW energy, but more on this Tuesday.
North Shore Forecast Graph
North Shore WAMs
Micronesia: As talked about on Tuesday, we've got average but persistent levels of E/NE trade-swell due over the coming period, but fresh to strong winds from a similar direction won't leave any decent surfing options at all.
Of greater significance and talked about last update are the storms forming off Japan next week.
This is in our prime northern swell window, with back to back lows due to produce two long-period N/NW groundswells for next weekend and the following week.
The first pulse looks biggest and best with it building Saturday and peaking Sunday (31st) to 5-6ft+ across the coast, with a secondary swell Wednesday afternoon to 5-6ft under strengthening E/NE trades. Check back here on Tuesday for the latest on how these swells are tracking.
Palikir Pass Forecast Graph
Palikir Pass WAMs
Papua New Guinea: It's good to have variable winds and fun amounts of NE trade-swell across the coast. Our current swell which should be coming in at 3ft to occasionally 4ft across swell magnets is due to ease temporarily into Saturday before some new energy fills in.
A broad and persistent fetch of strong E/NE trades east of Micronesia will generate some good NE trade-swell for us from Sunday, building and holding around 3-4ft+ through all of next week with favourable winds.
Longer term, the long-period N/NW groundswell should arrive New Year's Day, providing very inconsistent 3-4ft sets. We'll look at this again Tuesday though.