Slow fortnight across Indonesia
Bali and Mentawais forecast​​​​​​ by Craig Brokensha (issued Tuesday 3rd April)
Best Days: Swell magnets across Indonesia and Ments the whole period, best Friday, Saturday and Sunday before late next week
This week and next (Apr 4 - 13)
Bali: Welcome back to the first Indo forecast of the season. There was a good swell on the weekend but since, magnets have been best with light variable winds.
We're looking at small surf tomorrow coming in at an inconsistent 3ft across magnets, with a small background pulse of swell for Thursday providing a touch more size in that 4ft range.
A new inconsistent long-period SW groundswell is due to fill in Friday, generated by a strong but distant and less than favourably aligned polar low positioned west of Heard Island late last week and over the weekend.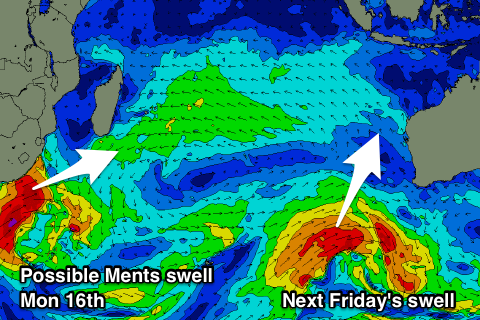 This should provide very inconsistent 4-6ft sets into Friday afternoon, easing back from 4-5ft on Saturday, further Sunday and into early next week.
Variable winds tomorrow will start to give into weak trades on Thursday through Saturday, freshening a little more from Sunday. In any case though each morning we'll see variable tending locally offshore winds as land breezes kick in.
Unfortunately there's been no major activity in the Indian Ocean since the weekend and through this week resulting in the swell bottoming out through Wednesday/Thursday next week.
Our next swell is due to arrive later Thursday the 12th and peak Friday the 13th, generated by a strong polar front projecting towards WA on the weekend.
A fetch of SW gales should be projected up through our southern swell window, generating a fun S/SW groundswell coming in around the 6ft range. Beyond this a more distant but vigorous storm may generate a secondary swell for the following week, but more on this Thursday.
16 day Bali Forecast Graph
16 day East Java Forecast Graph
16 day Sumbawa Forecast Graph
Ments: The current storm track setup isn't favourable at all for the Mentawais. We've got a large blocking pattern developing east of Madagascar which will keep our main swell window on lock down.
The swell from the polar low was even less favourably aligned for the Mentawais, with inconsistent surf to 4ft max at south magnets due Friday, holding Saturday before easing into Sunday and bottoming out Tuesday.
Before this we're only looking at inconsistent 2-3ft sets across magnets. Winds should be generally variable with afternoon sea breezes.
The groundswell due later next week will come in from the S'th across our region, providing 4-5ft sets at this stage into Friday afternoon the 13th before fading Saturday.
We may see a better storm firing up under South Africa early next week, generating a good SW groundswell for Monday the 16th of April, but more on this Thursday.
16 day Mentawai forecast graph
16 day Nias forecast graph
16 day South Sumatra forecast graph