Fun waves from Friday through Sunday, good swell later next week
Bali and Mentawais forecast​​​​​​ by Craig Brokensha (issued Thursday 5th April)
Best Days: Swell magnets over the coming period across both coasts, marquee reefs Thursday afternoon and Friday next week
This week and next (Apr 6 - 13)
Bali: Good waves across swell magnets the last two days, but our better S/SW groundswell for Friday afternoon is still on track, with it coming in well across Western Australia yesterday and this morning.
We should see exposed breaks building to an inconsistent 5-6ft on the sets into the late afternoon, easing back slowly from the 4-5ft+ range Saturday, further Sunday from 3-5ft.
Weak E/SE trades are due to kick in, light and variable each morning, with freshening trades through next week.
We'll see the swell continue to fade through early next week with no new swell due until Thursday.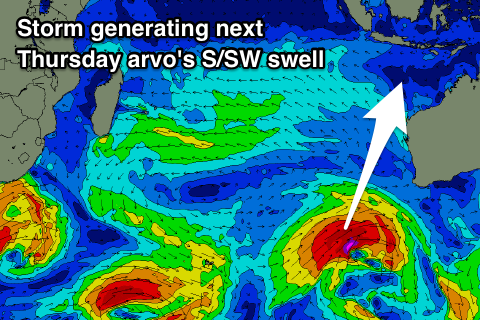 A strong node of the Long Wave Trough is forecast to strengthen across southern Western Australia, steering a vigorous polar front up and through our southern swell window.
This system is looking stronger than forecast on Tuesday with a fetch of severe-gale SW winds due to be projected towards WA, generating a moderate to large sized long-period S/SW groundswell.
This swell is expected to arrive late Wednesday with a peak through Thursday afternoon to 6ft+ across swell magnets, easing back slowly through Friday from 5-6ft.
Following this initial front we've got some good follow up activity expected, with another strong pulse of SW and S/SW groundswell on the cards for Monday the 16th.
This combo swell will be generated by a strong low initially firing up under South Africa, generating a fetch of severe-gale to storm-force W/SW winds in our south-western swell window, before tracking east-southeast towards Heard Island and then pushing back up towards the Bight, under WA producing a secondary S/SW groundswell.
Both would arrive at the same time and the models are over-forecasting the size a little but we'd be looking at surf to 6ft+ again. More on this Tuesday.
16 day Bali Forecast Graph
16 day East Java Forecast Graph
16 day Sumbawa Forecast Graph
Ments: With the current lack of swell we look towards the new inconsistent S/SW groundswell due tomorrow and over the weekend, with infrequent sets to 3-5ft due across south swell magnets through tomorrow and Saturday, easing from Sunday.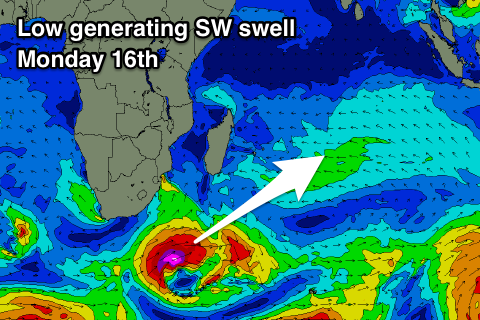 Light variable winds should create clean conditions, and we'll see the swell tail away into early next week, bottoming out Tuesday/Wednesday.
The S/SW groundswell due into later next week will develop late in our swell window and as a result we'll see less size than Bali, with it building Thursday and reaching 4-5ft later in the day and holding Friday.
The SW groundswell though is much better with stronger surf in the 5-6ft range expected on Monday the 16th, but more on this Tuesday.
16 day Mentawai forecast graph
16 day Nias forecast graph
16 day South Sumatra forecast graph