Tuesday, 3 May 2016
Easing surf ahead of a large S/SW groundswell Friday
Java, Bali, Lombok, Sumbawa forecast by Craig Brokensha (issued Tuesday 3rd May)
Best Days: ​Every day over the coming period
This coming week and next (May 4 – 13)
A good new S/SW groundswell filled in yesterday, holding today with a secondary pulse providing large sets for experienced surfers at exposed breaks. Conditions have been great as will with morning variable winds ahead of E/SE trades.
We should see the swell start to ease from later this afternoon, down further tomorrow from the 4-6ft range at swell magnets.
A low point is expected later Wednesday and Thursday morning ahead of a large new long-period S/SW groundswell kicking later in the day and peaking Friday morning.
This swell is currently impacting Western Australia, generated by a vigorous polar low firing up in the Heard Island region before projecting north-east towards Australia and then out of our swell window.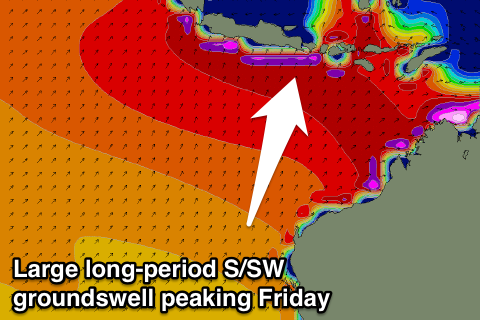 The long-period fore-runners are due to arrive through Thursday morning, with the swell building to the 6ft+ range across exposed breaks later in the day. Friday morning should see the peak in size with strong but inconsistent 6-8ft+ sets across swell magnets, easing back later in the day and then further through Saturday and Sunday.
More variable winds are due to develop from Thursday, persisting through until the middle of next week, opening up more options for savvy surfers.
The swell will continue to ease into Monday, but later in the day and more so Tuesday morning, a reinforcing S/SW groundswell from a weak polar front pushing up towards WA is due.
This should kick exposed breaks back up to 4-5ft range, easing back into Wednesday and Thursday morning.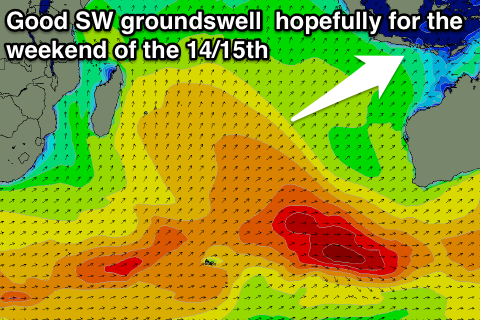 Longer term, besides some small background SW groundswell through the end of next week, we should see a more significant SW swell event for Sunday and Monday the 15/16th.
This should be produced by a strong polar front projecting from south-east of South Africa, up high through the Indian Ocean, helping to produce a more consistent and better aligned SW swell. At this stage we're looking at waves in the 6ft+ range, but more on this Thursday.
16 day Bali Forecast Graph
16 day East Java Forecast Graph
16 day Sumbawa Forecast Graph