Thursday, 28 August 2014
Large easing swells, slow next week
Java, Bali, Lombok, Sumbawa forecast by Craig Brokensha (issued Thu 28th Aug)
Best Days: Every day over the coming period until the swell becomes small later next week
This Friday and weekend (Aug 29 - 31)
The swell bottomed out through yesterday across Eastern Indonesia, but overnight another very large and powerful S/SW groundswell has filled in.
This swell is peaking today with large waves only for experienced surfers across most breaks under moderate E/SE trades.
The swell should hold most of the day as the trades freshen a touch before the surf starts to ease steadily through tomorrow and further into the weekend. Exposed spots in Bali should still be larger and in the 8-10ft range early before dropping from 6ft+ Saturday morning.
A reinforcing S/SW groundswell is due on Sunday, stopping the easing trend and keeping exposed spots active with 6ft sets.
Moderate to sometimes fresh E/SE trades are expected for the most part with variable winds at selected locations each morning around Bali.
Next week onwards (Sep 1 onwards)
The surf should continue to ease through next week, down from an inconsistent 4-6ft at exposed spots Monday and then further into the middle of the week, bottoming out Thursday afternoon and Friday morning to 3ft at swell magnets.
Winds may strengthen a little through the first half of the week before easing again towards the end of the week.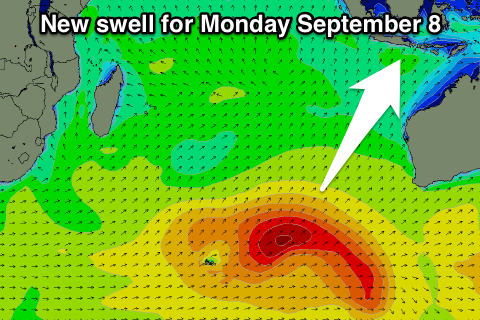 The next significant increase in swell is due the week starting the 8th of September as a new node of the Long Wave Trough strengthens slightly in the South-eastern Indian Ocean around the 2nd of September.
This should project a couple of strong polar fronts up towards us, generating a couple of pulses of good S/SW groundswell, the first for Monday (peaking through the afternoon) in the inconsistent 6ft to occasionally 8ft range, while a secondary pulse is likely sometime Wednesday/Thursday in the 6ft range at exposed spots.
Beyond this, looking at the super long term we may see a really strong node of the LWT strengthening in the South-western Indian Ocean around the 10th of September and this would bode well for large swell into the middle of September but we'll review this again Tuesday.
16 day Bali Forecast Graph
16 day East Java Forecast Graph
16 day Sumbawa Forecast Graph