Rip Curl Pro Forecast: Update
Tuesday, 16 April 2019
Last week we had an early look at the outlook for the Rip Curl Pro and it wasn't great.
With the storm track focussed up towards Western Australia we're seeing strong cold fronts steered through Victoria's western swell window, too far north and west to generate significant swells for Bells Beach.
The flow on effects of the northern storm track is that, over towards Victoria, instead of favourable north-west to south-west winds we'll see winds from the eastern quadrant which is terrible for the Surf Coast reefs.
Tomorrow will be a lay day with almost flat conditions until later in the day when a new west-southwest groundswell arrives. This groundswell is good enough to get competition under way on Thursday with inconsistent sets to 3ft+ expected, but winds will shift southerly, which is onshore, mid-morning after a possible early cross-offshore westerly breeze.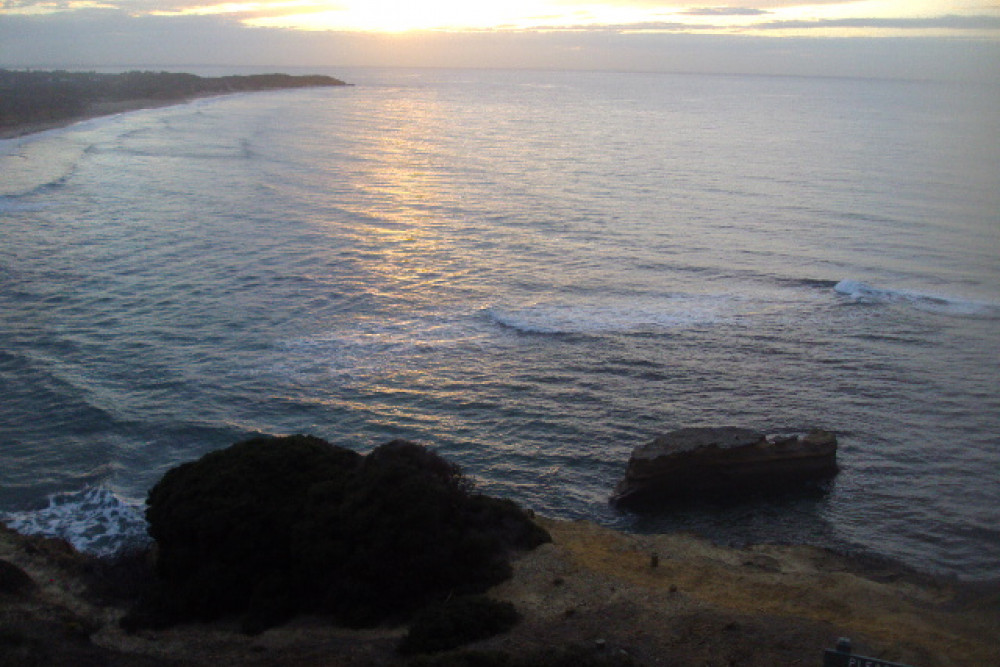 Torquay today... tiny
Whether they run or hold off for better surf later in the waiting period is a tough one to call.
A couple of good reinforcing pulses of W/SW and SW groundswell will fill in on Friday with surf continuing around 3ft+ but there'll be an east-southeast wind which will create terrible conditions. It's likely to be another lay day.
Winds will swing more north-northeast on Saturday but this is still average for Bells and Winki. The beaches should offer sets to 3ft if the WSL are willing to get mobile, but that's a story in itself. Swellnet contacted Parks Victoria, who administer Johanna, but were unable to get a straight answer. Keep in mind this is the Easter Long Weekend so there'll be hordes of campers, plus the WSL showed a reluctance to shift 200 metres from Snapper to D'Bah, so decamping 150kms seems unlikely. At any rate, this swell will ease throughout the day.
The outlook starts to improve from Sunday and into next week, but in saying this, the storm track will remain focussed towards WA, albeit a touch further south in latitude and more favourably aligned in Victoria's western swell window.
Firstly, a severe low pressure system will develop around the Heard Island region in our far swell window today, tracking east-northeast towards Western Australia while producing a tight fetch of storm-force W/SW winds.
The low will broaden while weakening and projecting north out of our swell window Wednesday evening, leaving an inconsistent but good long-period W/SW groundswell to travel towards Victoria.
The swell should arrive overnight Saturday and build through Sunday from an inconsistent 2ft to possibly 3ft early to 3ft+ through the afternoon. Winds will again be the problem, with a dawn N/NW'ly giving into a W/SW change mid-late morning.
Still, this looks to be another possible surf day.
Sunday's long-period W/SW groundswell will ease through Monday, but a new close-range W/SW groundswell should provide a fresh increase in size, generated by a tight mid-latitude low forming in the Bight on the weekend and dipping south-east through our swell window.
It's hard to pin down the size of this swell at the moment but we're looking at potential for 3-4ft sets at Bells and Winki with a morning west-northwest breeze, south-west into the afternoon - it's a definite contest day.
Tuesday should be another surf day with easing swell from Monday under an offshore wind most of the morning.
It's from here that the models diverge a little, but on the whole they indicate persistent weak fronts moving under the country, generating moderate-sized pulses of W/SW groundswell from Wednesday/Thursday with favourable winds. So while starting shaky, the contest could finish off in good quality surf.