Why the winds were bad in the Mentawais this season
Wednesday, 14 October 2015
Aside from being one of the most consistent places for swell on the planet, the Mentawais is also situated in a fortunate location for winds. Positioned between 1 and 3 degrees south of the equator, in a region often referred to as the Doldrums, the Mentawais rarely receives any gradient winds. It's an area of mostly slack breezes, often localised in nature and sensitive to passing storms.
Yet anyone who's visited the Mentawai Islands this year or kept an eye on our forecast notes would of noticed that from the middle to the end of this season unfavourable south-southeast winds have plagued the islands.
"The winds have been funky this year for sure," says Aaron Sherman, Director of Operations at Macaronis Resort. Aaron claims the persistent south winds have limited the range of waves that can be surfed – notwithstanding Maccas' ability to shirk off a bit of southerly breeze.
It's also made travelling difficult, says Aaron. "I've heard stories from friends on charter boats about having to turn back from attempted crossings of the Sipora strait and also having to turn around on trips down towards the deep south Mentawai."
An easy conclusion is that these vexing winds are linked to the current strong El Nino. But this isn't entirely correct; it's actually linked to another climate phenomena known as the Indian Ocean Dipole (IOD).
The Indian Ocean usually displays a difference in sea surface temperature across its basin. During a positive IOD event, warm water piles up in the western Indian Ocean (off the African coast) with cooler water in the eastern Indian Ocean (off Indonesia and Australia's North West coast). A negative IOD is the opposite with warm water off Indonesia and North West WA, and cooler water off Africa.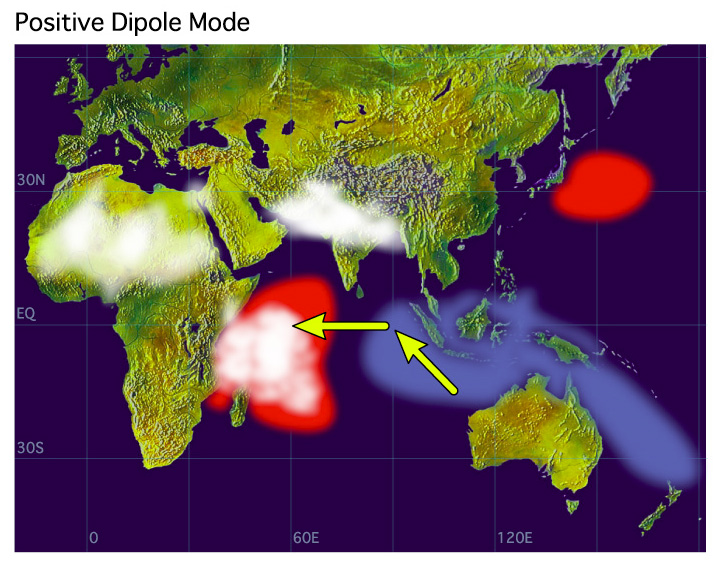 During positive IOD events - with cooler waters off Sumatra and Java - there's an increase in south- easterly trade winds feeding towards the increased convection and low pressure to the west.
These trades also increase upwelling off the Sumatran and Java coast, reducing water temps further, creating a positive feedback loop that is usually strongest from August to October before weakening.
Now, a positive IOD - as has been happening this season - can occur independently of El Nino, but more often than not a positive IOD phase will be linked to an El Nino event. When a positive IOD and El Nino event coincide though, the affect on the local winds across the Mentawais is strongest and least favourable.
The link between the positive IOD and bad winds fit with what some longtime Mentawai guides have reported. Mark from Macaronis Resort reports that "2006, 2008, and 2012 were all south wind years" and that syncs up with the IOD index from the past decade.

While this doesn't spell the best outcome for surfers travelling to the Mentawais during these years there is one winner: the Maldives.
The prime swell window for the Maldives is to the south of Sumatra where broad and sustained fetches of south-east winds can sit anchored, aimed perfectly at the islands. Under a positive IOD phase, these south-east trades are stronger than normal, producing larger swells and bumper seasons, as has occurred this year.
The only problem for those looking to take advantage of this climate phenomena is that the IOD phase doesn't become apparent until the season is well under way. For instance, this year it wasn't until late autumn that the IOD was shown to be positive.
As forecasting improves it may become possible to predict the IOD from months out so surfers can choose their destination accordingly. At present it benefits late season decisions only. //CRAIG BROKENSHA
IOD Index chart courtesy of ESSO-INCOIS
Positive Dipole Mode diagram courtesy of JAMSTEC