Epic week of waves inbound for Maldives
Whilst the Maldives lie within the same ocean basin as Indonesia - the Indian Ocean - its primary source of swell isn't always from the same weather systems.
Instead, the Central Atolls rely on a semi-permanent high pressure ridge through the central Indian Ocean and its persistent fetch of E/SE trades aimed towards the region. This produces ebbs and pulses of mid-period SE swell, which mix in with less consistent refracting S'ly groundswell from polar storms.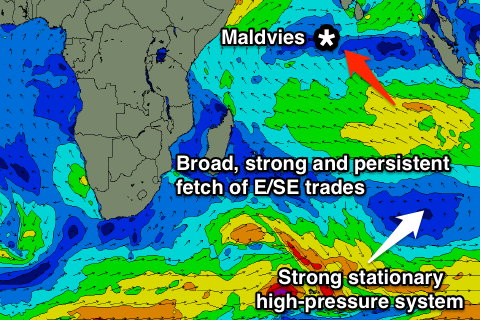 One of the best weeks of the season is currently inbound for the Maldives, with a large, persistent SE swell due from today through the rest of the week and this weekend, before tailing off into next week.
This swell is courtesy of a strong, stationary ridge of high pressure that's developed well south of Sumatra in recent days, while a broad area of low pressure on its northern flank has produced a wide and elongated fetch of E/SE trades, spanning from Madagascar to just south of Java.
The fetch has already is already well established, forming late last week and continuing to slowly strengthen towards a peak today resulting in an active open ocean sea state in excess of twenty feet.
The weekend's strengthening fetch has generated a moderate to large SE swell event that should be starting to build through today, reaching 4-6ft across exposed breaks on Wednesday. But a couple of bursts of stronger winds embedded in the overall fetch today should produce a larger SE pulse later in the week, that's expected to reach between 6ft and occasionally 8ft.
From here, the swell will slowly taper away into the weekend as the trade winds weaken and migrate slightly further west. In saying this, exposed breaks aren't likely to drop below the 3-4ft range next week as a persistent fetch of weak SE winds remains aimed towards the Maldives most of next week.

Keep an eye on the site early next week for photos from the large and pro-longed SE swell event. //CRAIG BROKENSHA