When is an east coast low not an East Coast Low?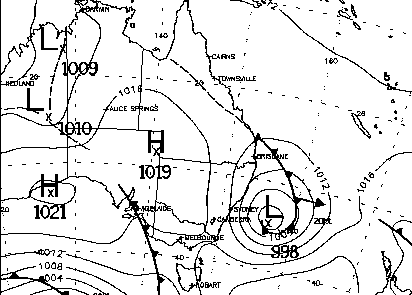 It's autumn, the time of year when east coast surfers stop looking to the northern swell window and wait for the south swells to kick in. There are a few different sources for south swells but some of the most exciting are low pressure systems that form in the Tasman Sea. When those 'onion ring' systems show on the synoptic map the term 'East Coast Low' is uttered by all and sundry, but when is it correct?
Sometimes the system in question sits closer to New Zealand's west coast than our east coast. So what actually is an East Coast Low (ECL)?
Each year – and especially during autumn and winter - many types of troughs, lows, and surface depressions form adjacent to our east coast, each providing different swell potential. The most significant of these swell-producing systems are Tropical Cyclones, Tasman Lows, and East Coast Lows.
Tropical Cyclones are easily classified; there are a set of atmospheric conditions and wind speeds agreed upon by the meteorological community. When a weather system meets those thresholds it becomes a Tropical Cyclone. The definition is fixed.
Tasman Low is a blanket term for any low pressure system that forms or travels through the Tasman Sea. Often Tasman Low and East Coast Low are used interchangeably, but this is incorrect as an ECL is a particular type of system that intensifies near the land/sea interface. ECL's have their own set of thresholds independent of Tasman Lows.
To begin with, an East Coast low has to form within 500 kilometres of the eastern Australian coastline. So those lows that sit near New Zealand sending long range SE swell fall outside the classification - they may as well be West Coast Lows. The other aspect of their positioning is that they must form between 25 and 40 degrees south. Also, an ECL must at some stage move parallel to the coastline.
The Bureau of Meteorology have some extra qualifiers for categorising an ECL; the system in question must exhibit gale-force winds along the coast, generate flooding rains, and create large prolonged storm swells. Again, those mid-Tasman low pressure systems fail to fit the bill.
Meteorologists determine East Coast Lows as systems that display the following:
Forming within 500 kilometres of the coast.
Moving parallel to the coast at one point of its life cycle.
Destructive winds of at least gale-force strength.
Widespread rainfall.
Rough seas and heavy swell.
Each year only a few systems, if any, tick all the above boxes and are genuine East Coast Lows. The rest are correctly classified as Tasman Lows. It may seem a trivial matter, only of concern to meteorologists and academics, yet the distinction can determine how to chase swell.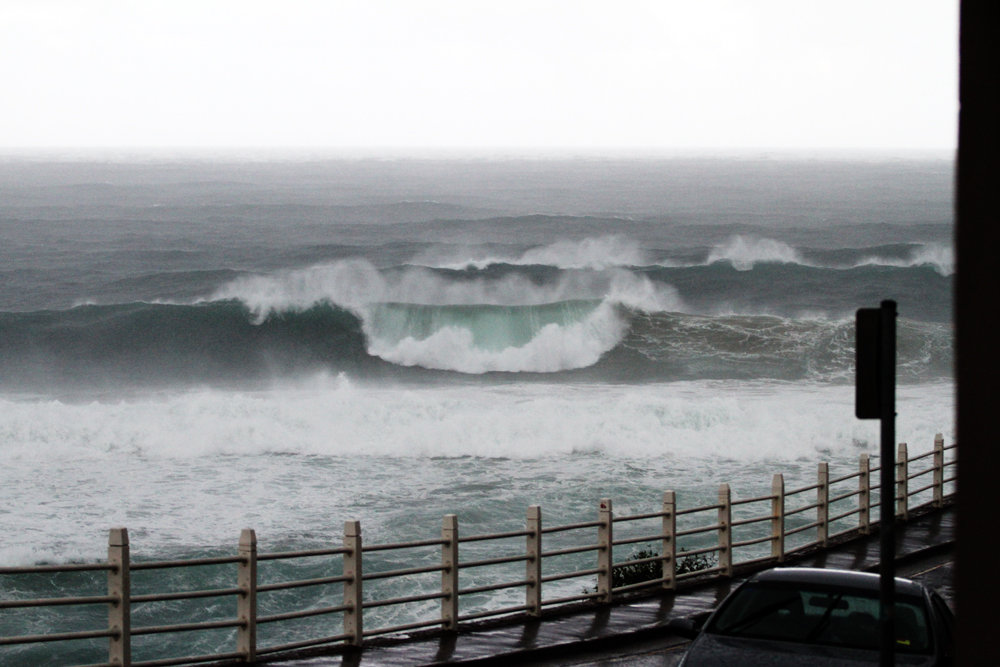 Once a system is labelled as an East Coast Low, expectations are heightened within the surfing community and everyone instantly thinks of pumping surf. Yet the people who score are those who work for it.
East Coast Lows often produce large waves as, by definition, they form in close proximity to the coast. Of course this also means there are the prerequisite gale-force winds but – and this is important - where you are in relation to the low's axis determines the direction they're blowing. Places to the south will have onshore winds from the east to south-east, but places to the north of the axis will have drier offshore winds from the west to south-west.
Keeping north of the lows axis, but not so far as to miss out on the swell is key to getting the best waves from these systems.
Many epic swells have originated from these intense and dynamic weather systems. The most memorable event being that of the Pasha Bulker, the coal ship that washed up onto Nobbys Beach, Newcastle in the winter of 2007.
Professor Ian Goodwin is one of Australia's leading researchers in coastal oceanography, marine climatology, and geology, and one of his current projects is a more exact classification system of closed circulation lows off the East Coast. Professor Goodwin proposes splitting it down further into 4 different categories. //CRAIG BROKENSHA and STU NETTLE
Note: An East Coast Low is currently forming in the western Tasman Sea, read up on the latest forecast notes here: Northern Beaches Forecast Notes
Northern Beaches WAMs