Poor run of surf and winds
Western Australia Surf Forecast by Craig Brokensha (issued Friday July 2nd)
Best Days: Dawn tomorrow across the state's swell magnets
Features of the Forecast (tl;dr)
Fading mid-period swell tomorrow with light morning E/NE winds, freshening from the N/NE late morning and then back NE late
Large, rapid, stormy increase in W/SW swell Monday with strong to gale-force W tending W/SW winds, easing a touch Tue with strengthening W/NW winds
Easing SW swell Wed with strong W/SW-SW winds, smaller Thu with strong S/SW winds (possibly S/SE early in Perth and Mandurah)
Recap
Average, bumpy 6-8ft surf in the South West yesterday morning though improving into the afternoon as winds slowly improved. Perth and Mandurah were cleaner but still lumpy and peaky with variable winds and 2-3ft surf.
Today is great across all locations with clean conditions and a drop in surf back to 4-6ft in the South West, 2-3ft in Mandurah and 2ft across Perth. Conditions should remain decent most of the day as winds swing N'ly but without much strength.
This weekend and next (Jul 3 - 9)
The weekend isn't looking too crash hot at all, with the current swell due to ease, becoming small to tiny in Perth and Mandurah. 1-2ft sets are likely in Mandurah, more 1-1.5ft in Perth while Margs should ease back from the 4ft range on the sets. Winds will be favourable early and light from the E/NE, shifting N/NE and freshening by late morning in the South West, tending back NE late.
From Sunday we'll see conditions deteriorate with a strengthening N/NE breeze ahead of a W'ly change as a deepening mid-latitude low pushes in from the west. This low will have multiple cold fronts firing up and around it, pushing in through next week.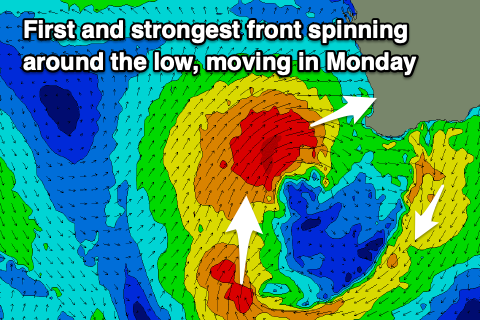 The first cold front moving through Sunday afternoon bringing the W'ly change isn't expected to have much size attached to it, but behind this we'll see a secondary front project a fetch of W/SW gales into us Monday.
This will bring a rapid increase in large, windy, stormy swell with sets pushing to 12ft+ across the South West, 4-5ft+ in Mandurah and 3-5ft across Perth along with strong to gale-force W tending W/SW winds. It won't be pretty.
Winds will ease into Tuesday as we fall in between fronts, with the swell due to ease back from 10-12ft in the South West and 4ft or so to the north. Fresh to strong W/NW winds will strengthen through the day though, with Wednesday seeing strong W/SW-SW winds as a third front pushes through.
The size will likely hold Tuesday afternoon from the third front, easing back from 10ft Wednesday, and 3-4ft to the north. Winds will remain strong from the S/SW into Thursday (S/SE early in Perth and Mandurah but with smaller, weaker surf, back onshore Friday as another mid-latitude low starts to push in from the west.
Longer term, this secondary mid-latitude low will bring onshore winds and surf next weekend and the following week, though not to the size of next week's swell. More on this Monday. Have a great weekend!