Friday, 22 January 2021
Good, though onshore swell for the weekend, larger next week
Western Australia Surf Forecast by Craig Brokensha (issued Friday January 22nd)
Best Days: Monday morning, Friday and Saturday week
Features of the Forecast (tl;dr)
Moderate-large W/SW groundswell for Sun but with W/SW tending SW winds, cleaner and easing Mon
Moderate sized, mid-period SW swell building Thu with strengthening S/SE winds
Large SW groundswell for Fri PM, easing slowly Sat with morning offshore winds
Recap
A slow start to yesterday but our new SW swell kicked through the afternoon along with strong S/SW sea breezes, much better this morning with an early strong, but abating offshore wind and clean 3-5ft waves across the South West. To the north there is a touch more energy today but it's tiny.
This weekend and next week (Jan 23 - 29)
Our current swell will ease this afternoon and bottom out tomorrow ahead of our new W/SW groundswell later in the day, peaking Sunday.
The mid-latitude low linked to this swell is weakening to our west-southwest but it's still aiming a healthy fetch of gales towards us, with it due to weaken more noticeably into this evening while projecting east.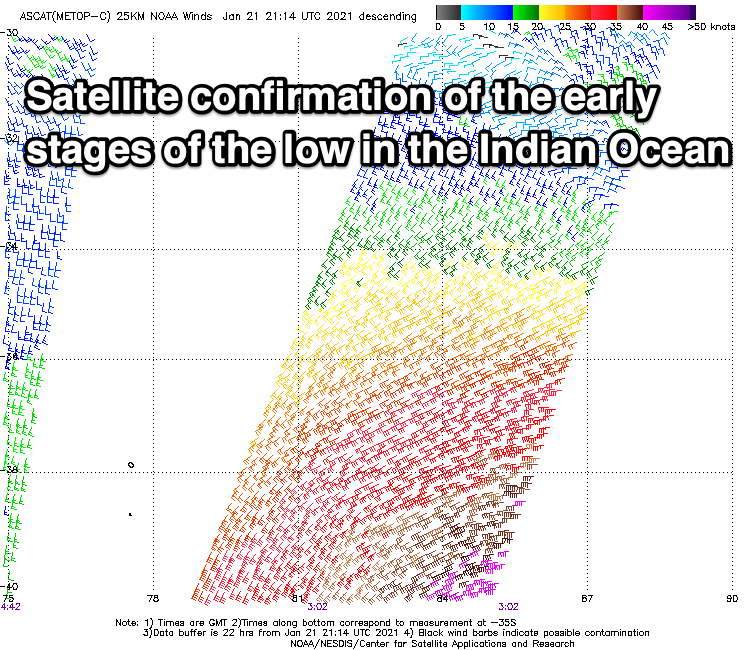 Satellite passes picked up a great fetch of gales during the earlier stages of the low and there's no real change to the expected size across the state. Margs should offer solid 6ft to occasionally 8ft sets, 3ft across Mandurah and 2-3ft in Perth but winds will be onshore across all locations. W/SW in Margs and SW further north. Coming back to Saturday and a dawn S/SE breeze will quickly shift SW and strengthen with the approaching low.
Monday is still the pick on the backside of the swell and as the low continues to weaken and clear, with a SE offshore in Margs, S/SE in Perth and Mandurah with easing sets from 4-5ft+, 2ft+ and 1-2ft respectively. Tuesday will be cleaner again but tiny in Perth and Mandurah, small and 2ft to possibly 3ft in the South West.
Moving into the end of the week, and the mid-period SW swell for Thursday is on track, generated by a broad and not overly strong but prolonged polar front moving from the south-east of South Africa. The swell should build through the day and reach 4-5ft across the South West into the afternoon, 1ft to maybe 2ft in Mandurah along with fresh to strong and strengthening S/SE winds.
Of greater significance is a now stronger secondary polar low forming on the back of this weaker system, with a broad fetch of severe-gale winds (possibly storm-force core winds) generated in the Heard Island region, stalling just east of it while slowly weakening.
A large, long-period SW groundswell should result, with the easing trend slowed by the longevity of the low, with it due to build Friday and peak into the afternoon with sets to 8-10ft+ across the South West, 3ft in Mandurah and 2-3ft in Perth. Winds look favourable in the morning as the low stays at arms length, giving into afternoon sea breezes, but we'll confirm this Monday. Have a great weekend!