Friday, 22 May 2020
Dynamic but not overly useful period
Western Australia Surf Forecast by Craig Brokensha (issued Friday 22nd May)
Best Days: Selected spots later tomorrow and Sunday, Perth and Mandurah Tuesday morning, protected spots in the South West Tuesday morning
Recap
Really fun waves across the South West yesterday with clean easing 3-5ft surf, 1ft to occasionally 2ft in Mandurah and tiny in Perth. Today the surf is smaller but clean again in the South West, tiny in Perth and Mandurah.
This weekend and next week (May 23 - 29)
A low point in swell is expected tomorrow morning but our new SW groundswell should kick later in the day, generated by a strong though unfavourably tracking polar low mid-week. This should kick the South West magnets to 5-6ft through the late afternoon with workable fresh to strong N/NE winds. This will only favour select locations and Perth and Mandurah will remain tiny.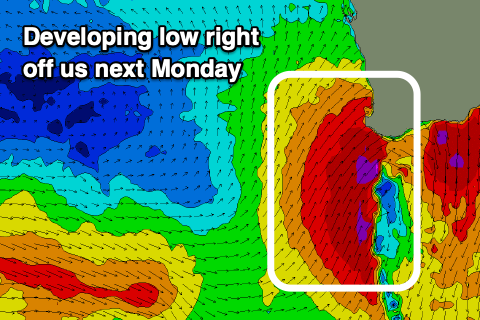 Sunday is tricky with the SW groundswell due to be a similar size to later Saturday though strong N/NE winds will create tricky conditions, likely swinging more NE into the late afternoon as a possible new long-range SW groundswell starts to build.
This swell and a secondary larger pulse for Monday were generated through this week by strong and broad storms pushing through our swell window, west and north of the Heard Island region. Severe-gale winds produced the largest pulse which should build Monday and reach 8-10ft across the South West into the afternoon, 3ft+ in Mandurah and 3ft across Perth.
Unfortunately the timing of a significant and strengthening trough come low looks to be right on Monday morning bringing gale-force W/SW tending SW winds to all locations.
This will also add some additional windswell to the mix, adding possibly bigger cleanups into the mix across all locations, though conditions will be poor with those winds.
Tuesday will remain average with fresh strong S/SW winds across the South West, possible becoming more favourable and lighter out of the SE in Perth and Mandurah. A mix of groundswell and localised swell are expected to 8-10ft in the South West, 3-4ft in Mandurah and 3ft across Perth.
From Wednesday well see all coasts swing back onshore as a mid-latitude frontal progression moves up and into us but the strength isn't anything significant at all. This will result in windswelly waves with no major power or push to the swell and mainly stormy conditions.
Surfing options will be little to none with quality though we may see things settle back down into Sunday and early the following week.