Make the most of this weekend
West Australian Surf Forecast by Guy Dixon (issued Friday 31th July)
Best Days: Saturday, Sunday morning.
Recap:
Thursday we saw a fun start to the morning with 3-5ft peaks across the Southwest under light offshore breezes. A mixture of SW ground swell combined with a west/northwesterly wind swell to allow for some pretty unusual but welcome surf. Perth and surrounding metro beaches didn't pick up much, with a few weak 1-2ft peaks along the open stretches. Conditions deteriorated today as a complex low and front swept WA. Strong winds swung from straight onshore this morning to gusty south/southeasterly this afternoon, allowing for the odd brief window of semi-decent 3-4ft surf at the more protected spots, but generally pretty ordinary.
This weekend (August 1st – August 2nd):
A fresh south/southwesterly ground swell which we have been tracking for the past few days is still on track to impact the Southwest on Saturday. This swell has been whipped up by a fetch of southwesterly gales/severe gales off the back of a polar front. Due to the low latitude of this system, the direction of the swell will have a lot of south in it, making for a large disparity in surf size across the WA coast. The exposed south swell magnets across the Southwest can expect sets in the 5-6ft range, while more protected locations will be significantly smaller. Further north, Perth will most likely miss out on this swell, instead continuing to receive a weak 1-1.5ft swell dribbling in.
By day break on Saturday, a ridge will have replaced this miserable low and will help to steer a gusty southeasterly flow over southwestern parts of the state. As a result, the Southwest is in for a day of decent surf, with favourable winds all day, especially for spots with a bit of protection from the south. Similarly, Perth will also see southeasterly winds all day, but protection will be more important.
Sunday will see this swell fade to around 3-5ft under easing easterly breezes.
Next week (August 3rd – August 7th):
The following week looks to remain fairly dormant. A lack of significant fronts will allow the surf to wane to a background 3ft across the Southwest with subtle ebbs and pulses throughout much of the week. Perth will become tiny to flat. Fortunately, winds will be light offshore virtually all week (with the exception of Wednesday afternoon where winds will shift more northeasterly), offering generally clean but gentle conditions.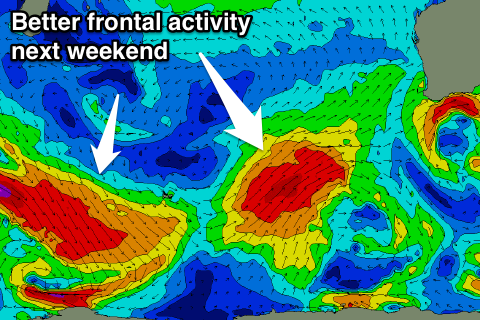 Next weekend (August 8th – August 9th):
The next best chance of a significant swell event is looking to approach late on Saturday and into Sunday. This system looks promising for a decent sized swell, with the potential for a kick to around 10ft on Sunday. However, at this stage, the outlook for wind doesn't look good. A strong west/southwesterly flow is looking to plague much of the WA coast ruining any chance of a decent wave. Long range models show indications of a second front trailing soon after, which will be working on an active sea-state to generate another pulse of serious swell. Hopefully a ridge will build in time for this swell event to allow for favourable winds, but it's getting pretty late in the forecast period so model certainty is lacking. Stay tuned next week as we monitor how the systems develop.