Small to moderate swell pulses with varying winds
Western Australia Surf Forecast by Craig Brokensha (issued Friday 26th December)
Best Days: Saturday morning, Sunday morning, Monday morning, Tuesday morning, Wednesday morning north of Perth
Recap
The surf was smaller into yesterday but still really fun and in the 3-4ft+ range across the South West, 1-2ft in Perth and 3ft up around Gero.
Today Margs was around the same size, while Perth was tiny and Gero a touch smaller as well under favourable morning offshores before sea breezes kicked in.
This weekend (Dec 27 - 28)
A slight lift in SW groundswell this afternoon should be followed by a secondary better increase tomorrow afternoon in the South West, peaking into the evening. Further north the swell probably won't be noticeable until after dark, peaking early Sunday and then easing off through the day.
Margs should build from 3-4ft+ early to 4-5ft by dark before easing from 3-5ft Sunday morning. Perth should ease from 1-1.5ft Sunday morning with 3ft sets up at Gero.
Winds tomorrow will remain favourable and from the E/NE around Perth and Gero through the morning and from the E/SE around Margs.
A surface trough will drift inland Saturday evening and with this we'll see less favourable S/SE winds into Sunday morning across the South West with SE winds further north.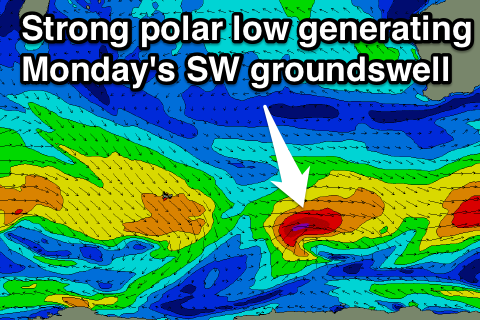 Monday onwards (Dec 29 onwards)
We're now looking at a secondary very similar pulse of SW groundswell into Monday morning from a secondary polar front firing up east of Heard Island this morning, aiming a fetch of gale to severe-gale W/SW winds on the edge of our swell window.
This should produce 4-5ft sets across the South West again, 1-1.5ft waves in Perth and 3ft sets up at Gero.
Winds look to improve for this swell, swinging back to the E/SE during the morning across Margs and Perth, while Gero will see unfavourable S/SE winds.
The swell should drop away through Monday afternoon and further Tuesday and into Wednesday morning.
Winds are a little tricky as the inland surface trough may support the formation of a weak low, with possible E/NE winds across all locations Tuesday and then NE winds up at Perth and Gero, with SE winds in the South West. This all depends on the position of the trough/low with the further west it sits, the more north they'll tend, and vice versa.
Looking at swell due through next week and there's nothing significant showing on the charts unfortunately so make the most of the coming days of waves. Have a great weekend!