Large swells Friday and Monday, winds best to the north
Western Australia Surf Forecast by Craig Brokensha (issued Monday 18th August)
Best Days: Wednesday morning, Friday morning, Saturday morning north of Margs, Monday
Recap
Saturday morning was the pick of the weekend with a good new SW groundswell and morning offshore winds while Sunday was poor in the South West but good around Perth and Gero with NE winds and an easing swell.
Today a strong change has moved through with poor conditions across all coasts.
This week and Saturday (Aug 19 - 23)
Average winds and a small to moderate sized SW swell are due through tomorrow as a trough moves east across us with S'ly winds across the South West, and easing S/SW winds around Perth and Gero.
A new SW groundswell is due on Wednesday morning and winds should be workable early with a light variable breeze expected across most locations before an approaching front brings freshening NW'ly breezes. So get in early for the best of it.
Thursday will be a write off as the change sweeps through bringing fresh N/NW tending W/SW winds, but the front linked to this change will bring with it a large and powerful W/SW groundswell event for Friday.
Coming back to today,and a strong polar front south-east of South Africa is forecast to be steered and intensified by a strengthening node of the Long Wave Trough south-west of the state.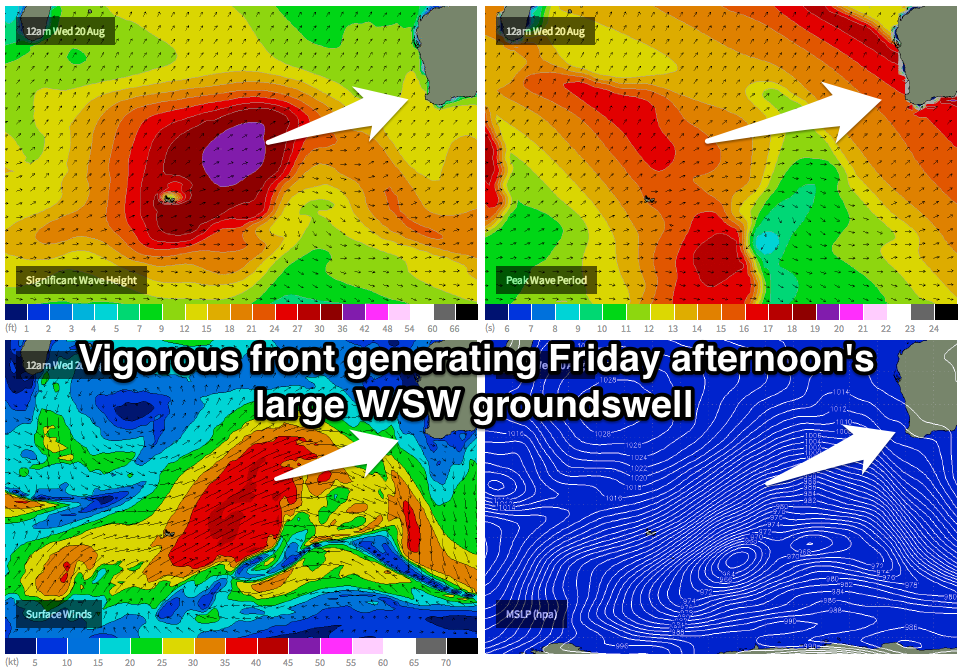 A broad fetch of severe-gale W/SW winds will be projected up towards us, producing a very large and powerful W/SW groundswell for Friday afternoon.
This swell should build to an easy 12ft in the South West with bigger bombs at offshore reefs, 3-4ft in Perth and 6-8ft around Gero late in the day.
Winds are expected to be favourable and light offshore across Perth and Gero Friday morning ahead of weak onshore breezes into the afternoon, while Margs will unfortunately see early N'ly winds freshening from the N/NW into the afternoon during the peak of the swell.
A steady drop in size is due Saturday but winds will remain poor and from the NW across the South West with NE tending NW winds further north.
This Sunday onwards (Aug 24 onwards)
With the LWT stalling to our south-west while continuing to strengthen into the weekend, we could see an even stronger polar frontal system steered up and towards us from Friday through Sunday.
This system is expected to see winds reaching the storm-force range, producing an oversized SW groundswell for Monday, building towards a peak into the afternoon to 12ft+ at exposed spots in the South West, with larger waves at offshore reefs. Perth should build to 3-4ft+ and Gero 6-8ft+. Winds may be variable tending light onshore into the afternoon, but this is a long way down the track.
The models are still moving around a little on the two sizes of these swells so we'll have another look at everything on Wednesday.