Workable winds with small swells
Victorian Surf Forecast by Craig Brokensha (issued Monday 23rd January)
Best Days: This morning exposed locations, Wednesday morning, early Thursday Surf Coast, Friday morning and Saturday on the exposed beaches
Features of the Forecast (tl;dr)
Fading surf tomorrow with light E/NE winds ahead of a shallow S/SW change
Small, inconsistent W/SW groundswell building Wed with variable winds (N/NW Surf Coast) ahead of mid-late PM sea breezes
Mix of small inconsistent W/SW swells Thu and Fri with W/NW tending strong S/SW winds mid-AM Thu, light E tending SE Fri
Easing surf Sat with fresh NE winds
Recap
A slow start to Saturday but our new S/SW groundswell arrived through the day with good sets building to 4ft+ on the exposed beaches as conditions improved before sea breezes developed into the afternoon.
Yesterday was poor across all locations with the swell hanging in but with gusty S/SE winds, smaller today but cleaner with variable winds across all locations. The Surf Coast is easing from 2ft with 2-3ft sets to the east.
This week and weekend (Jan 24 - 29)
The current swell will continue to fade into tomorrow, leaving tiny waves across the Surf Coast and easing 1-2ft sets to the east along with light E/NE offshore winds ahead of a weak S/SW change linked to a trough early afternoon.
Wednesday morning should see winds go back variable owing to the weak nature of the trough moving in tomorrow, with a light N/NW offshore on the Surf Coast, a touch dicey to the east but still surfable.
An inconsistent W/SW groundswell is due to build Wednesday, generated in our far swell window by a strong polar low that developed west of the Heard Island region. The low weakened while moving east of the Heard Island region on the weekend, with the swell now on the way, arriving through the morning and building to 2ft+ on the Surf Coast and 3-4ft+ to the east into the mid-late afternoon. Sea breezes are due to move in early/mid afternoon so try and surf before then as the swell slowly builds.
This swell is due to ease through Thursday morning from a similar size, while some reinforcing mid-period W/SW swell should steady wave heights into the afternoon and Friday morning.
Friday morning looks to offer the peak in this mid-period energy, generated by weak a weak fetch of W/SW winds passing under WA today and tomorrow. It looks to only be around 2ft+ and 4ft to the east and locally winds will be favourable for the Surf Coast early Thursday out of the W/NW before a trough brings a S/SW change mid-late morning. The trough looks to dissolve into Friday morning resulting in winds shifting more E'ly with the fun sized mid-period swell but we'll review this on Wednesday.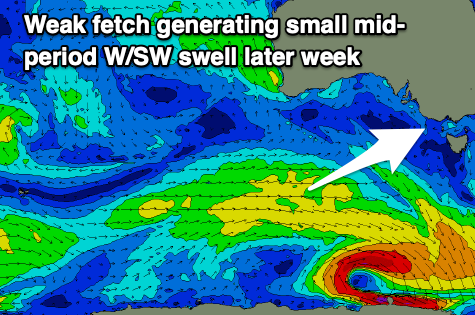 Cleaner conditions are guaranteed Saturday morning as winds freshen from the NE along with some fun easing mid-period energy from 3ft on the exposed beaches.
Make the most of Saturday's waves as another trough is expected to bring a strong SW change through Sunday as the swell bottoms out.
Longer term small to moderate levels of mid-period swell are due into early to mid next week but with what looks to be S'ly winds. We'll have another look at this Wednesday.