Fun windows for the beaches
Victorian Surf Forecast by Craig Brokensha (issued Friday 13th January)
Best Days: Tomorrow morning exposed beaches, Monday morning, Tuesday exposed beaches, dawn Wednesday for the keen on the beaches, next Friday and Saturday mornings on the exposed beaches
Features of the Forecast (tl;dr)
Easing W/SW swell tomorrow with E/NE-NE winds ahead of S/SE sea breezes
Building windswell Sun with strong SW-S/SW winds
Moderate sized mid-period SW swell for Mon AM, easing into the PM and further Tue
Easing E tending E/NE-NE winds Mon AM ahead of S/SE sea breezes
Freshening E/NE-NE tending N/NE winds Tue ahead of an evening SW change
Inconsistent, small mid-period W/SW swell for Tue PM ahead of a better increase late Wed, peaking Thu
Early N winds Wed ahead of a strong SW-S/SW change, with strong S tending SE winds Thu
Easing surf Fri with E winds
Recap
Good waves across the open beaches yesterday with easy 4ft sets and light winds until later morning. The Surf Coast was 2ft to occasionally 3ft and also good into the early afternoon ahead of fresher sea breezes.
Today is smaller with less favourable but workable winds across the open beaches, coming in at 3ft to the east and 2ft on the Surf Coast. Winds will strengthen from the S/SE through the day so surf before lunch.
This weekend and next week (Jan 14 - 20)
The weekend will become smaller but cleaner across the exposed beaches tomorrow morning before a trough brings a strong onshore change Sunday.
Winds should tend NE ahead of the trough tomorrow morning but the size will continue to ease across the state, dropping from 1-1.5ft on the Surf Coast and 2-3ft to the east. Sea breezes will kick in early afternoon so surf before then.
Sunday will then become a write-off with a strong SW tending S/SW change due before dawn along with no decent swell apart from some localised windswell.
The trough linked to Sunday's change will generate a decent spike of mid-period SW swell for Monday, with it produced by a burst of strong to gale-force W/SW-SW winds south-west of us this evening and tomorrow morning. This will be linked to a mid-latitude front dipping south-east from under Western Australia while strengthening today, forming a low pressure centre.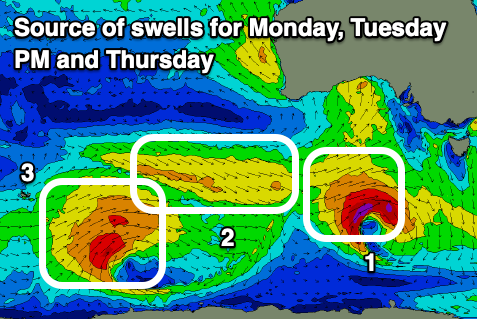 Good 3ft+ sets are due across the Surf Coast Monday morning with 4-5ft+ sets to the east (easing through the day) and the trough will clear quickly to the east, allowing winds to ease and shift E/NE-NE. Sea breezes will then kick in early-mid afternoon as the swell eases.
Tuesday will be smaller but great for the beaches again with a freshening E/NE-NE tending N/NE breeze along with dropping sets from 3ft to occasionally 4ft across exposed spots during the morning.
Into the afternoon, a small pulse of reinforcing mid-period W/SW swell is due ahead of a better increase late Wednesday/Thursday, generated by the same storm.
This will be a broad low forming east of the Heard Island region with a pre-frontal fetch strong W/NW winds due to be followed by a slightly stronger but sub-gale-force W/SW fetch.
Tuesday afternoon's increase looks to maintain 3-4ft sets east of Melbourne with 2ft waves on the Surf Coast, while the secondary pulse is due to an inconsistent 3ft on the Surf Coast and 4-6ft to the east.
Unfortunately a two staged trough is due to move through later Tuesday, bringing a SW change which should ease into Wednesday morning, resulting in temporary N winds ahead of a secondary SW-S/SW change, with strong S tending SE winds into Thursday as the swell peaks.
Easing surf with E'ly winds is likely next Friday and into the following weekend, but we'll have a closer look at this Monday. Have a great weekend!