Small, fading surf but worth making the most of
Victorian Surf Forecast by Craig Brokensha (issued Friday 6th January)
Best Days: This morning on the beaches, tomorrow until early afternoon on the beaches, Wednesday and Thursday mornings on the beaches
Features of the Forecast (tl;dr)
Small, reinforcing mid-period S/SW swell Fri with gusty E/SE tending strong SE winds
Easing small mix of swells tomorrow with gusty but easing E tending E/NE-NE winds, giving into sea breezes mid-PM
Small, weak surf Sun with E/NE-NE tending SE winds
Small, inconsistent W/SW swell building Mon with strengthening SW winds from dawn
Fun sized, building W/SW swell Tue with gusty S/SW winds, easing Wed with E tending S/SE winds
Easing surf Thu with variable tending S/SE winds
Smaller Fri with E/SE tending S/SE winds
Recap
Poor conditions across most locations yesterday, though fun across the exposed beaches on Phillip Island with a lighter SE breeze.
This morning the surf is a bit cleaner across the beaches east of Melbourne but still lumpy and peaky with a reinforcing mid-period S/SW swell to 3ft to occasionally 4ft. The Surf Coast is poor and hanging in at 2ft.
This weekend and next week (Jan 7 - 13)
Moving into the weekend we'll see the size easing across both regions as winds improve further for the beaches.
There'll be a mix of SE windswell and easing S/SW swell to 1-2ft on the Surf Coast tomorrow morning, 2-3ft to the east aalong with gusty but easing E tending E/NE-NE winds through the morning, giving into sea breezes mid-afternoon. This should provide plenty of time to get a couple of surfs in.
Sunday looks smaller and not worth worrying too much about and light NE winds should create clean conditions again ahead of SE sea breezes.
Monday morning looks to start tiny, but a small new W/SW swell should build into the afternoon, generated by a very tight low and then weak mid-latitude front passing under Western Australia this evening.
Size wise it looks to reach 2ft on the Surf Coast and 3-4ft to the east but a trough will bring a SW change on dawn Monday morning, strengthening through the day.
This will create poor conditions and write-off the surf for the day, along with Tuesday with gusty S/SW winds.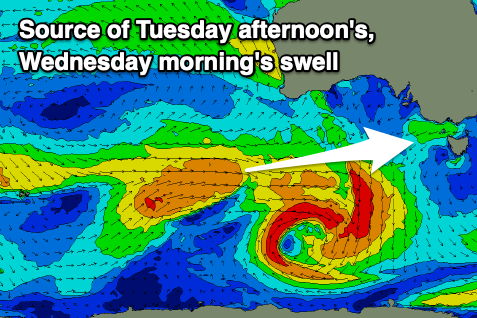 The trough is due to form into a small low and track north-east through Wednesday, possibly swinging winds to the E through the morning.
Swell wise, a slightly better, inconsistent mid-period W/SW swell is due to be generated by a slightly stronger mid-latitude front pushing in behind this evening's system under Western Australia.
This swell is due to fill in Tuesday and peak through the afternoon with 3ft surf due on the Surf Coast, 4-5ft+ to the east, easing from a similar if not slightly smaller size on Wednesday with those improving winds.
The surf will continue to ease through the end of the week and we may see variable winds Thursday morning ahead of strengthening S/SE winds, E/SE-SE on Friday.
This pattern of south-east winds looks to persist through next weekend, possibly improving through Sunday but with hardly any swell. Therefore make the most of the current waves and tomorrow morning. Have a great weekend!